Cuffing szn is here, but forget all that when you can rock these rings designed for every stylish badass out there! Find them all, plus more, at the BUST Craftacular on December 9th and 10th at the Brooklyn Expo Center in Greenpoint, Brooklyn.
Galaxy Ring by Kate Koel, $54.00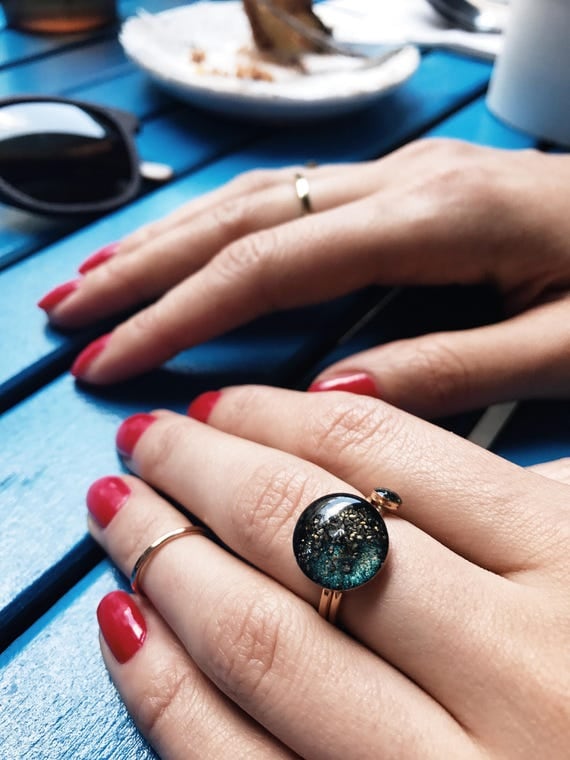 This beautiful ring is out of this world, and its galactic design is handmade, created with pyrite, glass crystals, and eco-resin, and each is made to order. Kate Koel designs jewelry with a little bit of herself in everything she creates and works to include her hopes and dreams in her work.
Atom Ring by Mesc Designs, $65.00
This atomic ring is essential for all nerds, and the labradorite stone in the center is sure to catch all eyes. Mesc Designs is created by Mary E.S. Cox from Philadelphia, and she uses nature and natural materials as her influence. She "appreciates how pieces interact with wearers" and her jewelry and art designs definitely showcase this!
Infinity Ring by Elyse Designs, $35.00
This subtle, minimalistic ring by Courtney Miller's Elyse Designs is one of her edgy and elegant creations. Having a passion for fine art, Elyse Designs focuses on using metalsmithing and experiences making jewelry with cement and patina.
Feather Ring by Amy Fine Design, $48.00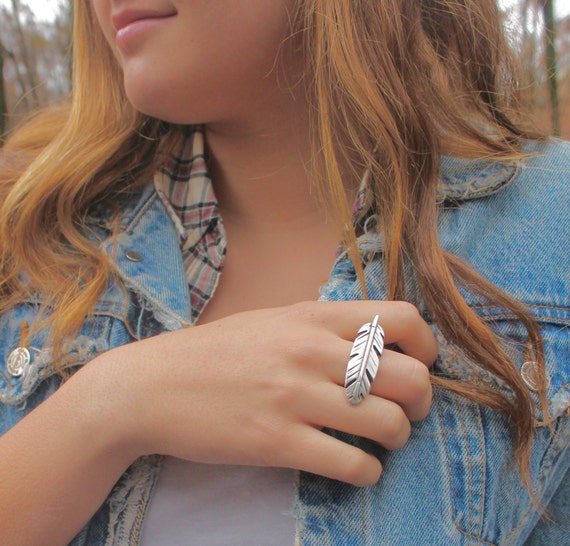 Float on from fall into winter with the adorb feather ring, and choose whether you'd like a black or brown base. Amy Fine Design was created with an obsession with jewelry designing that goes back 15 years, and Amy views color designs the same as being a kid in a candy shop!
Wholeness, Love, and Happiness rings by AuH2O, $10.00, $12.00, $10.00
Use these words of wisdom on your hands as a reminder to make every day a happy one full of love to balance the highs and lows. Vintage is a must for every budget, and AuH2O is a curated thrift and vintage boutique based in East Village that provides that. Owner Kate Goldwater features recycled handpicked clothing, shoes, and accessories to fit every style. Even better, more stuff is under $25, and she even features $5 and $10 racks! Macklemore has nothing on this.
Vampire's Ball Ring by 5one7 Design, $48.00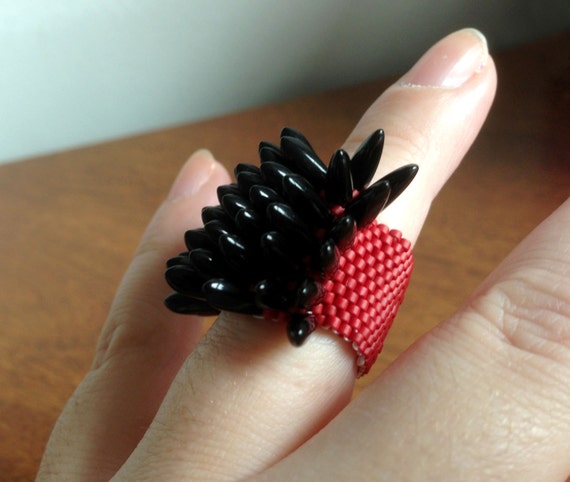 Catch attention with this unique, handmade ring that is made per order! New Jersey-based designer Danielle Petoukoff started making jewelry in 2008 and created 5one7 Design where she focuses on hammered brass celestial designs. You should check out her Instagram for her latest creations.
Vintage Turquoise Ring by Maren Dunn Studio, $75.00 
Jazz and class up any outfit with this stunning ring, featuring amethyst and turquoise, and a vintage silver base believed to be from the 70's. There's definitely something alluring about wearing something with a mysterious, secret history behind it. Maren Dunn Studio also creates beautiful healing jewelry, incorporating chakra stones and crystals in her various necklace, rings, and bracelets.
Cin Ring by Mary Gallagher, $185.00
Having pretty jewelry is one thing, and having a ring that you take part in the design by choosing all the components you'd like is another. You choose your material and stone from choices like garnet, blue moon quartz, and more. Mary Gallagher found inspiration from New England beauty and history, and enjoys nature with its symmetry decay: there's something graceful about a fallen bird or a receding coastline. Mary's influence of symbolism religion can be found in her creations, and all pieces are made right in Brooklyn!
Ring 70 byFleurs Jolie, $35.00
Allow this ring to do all the talking for you, because what speaks louder than Swarovski rhinestones on a handcrafted rose?! Fleurs Jolie recognizes that everyone has something special about themselves, and works to create jewelry that emphasizes that. Inspiration is found in sunsets, and her design style is making button jewelry from the 1930's-50's. For those that inquire about these rings, all floral jewelry has been made with vintage acetate flowers that were imported from Japan during the '50s!
 Check out these vendors and countless more at Bust's Annual Holiday Craftacular @ Brooklyn Expo Center! Tickets are available online, make sure to see which of the 100s of Creative Living classes being offered interest you the most, and get ready to get down to a female-fronted music festival!