There's a lot to love about Netflix's The Crown — gorgeous costumes, Claire Foy's angry-yet-composed face, storylines that sends you straight to Wikipedia to find out what actually happened — but perhaps the best thing about The Crown is the character of Princess Margaret, played in the first and second seasons by Vanessa Kirby as a glamorous, snarky, constantly-smoking socialite with perfect eyeliner and incredibly bad luck with men.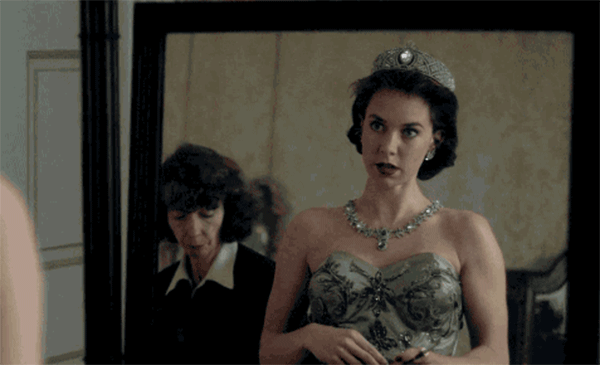 Netflix previously announced that the Crown will be changing actors for its third season — which makes sense. Season 1 took place from 1947 to 1956, and Season 2 took place from 1956 to 1963, meaning that 33-year-old Claire Foy played Queen Elizabeth II from age 21 to age 37. Actress Olivia Colman — who I looooved in Peep Show and who has been in many other movies and TV series including Broadchurch, The Lobster, and Hot Fuzz — has been confirmed to take over as Queen Elizabeth II in the next decade or so of her life.
Now, the London Evening Standard reports that Helena Bonham Carter "is all but confirmed to play the inimitable royal" Princess Margaret, adding that Carter was originally in the running to play Queen Elizabeth II before the role went to Colman. HBC previously played Elizabeth and Margaret's mom in the King's Speech (and so did Olivia Colman, in Hyde Park on Hudson).
Even better: It looks like Season 3 will contain a particularly juicy storyline for Princess Margaret. Digital Spy previously reported, "Season three is apparently going to include Princess Margaret's five-year affair with baronet and gardening expert Roddy Llewellyn, who was 17 years younger than Margaret."
Now we just need to find out who will play the fun-to-hate Prince Philip...and Roddy Llewellyn.
top photo: Helena Bonham Carter in The King's Speech
More from BUST
Week Of Women: December 8-14, 2017
This First Trailer For "Ocean's 8" Was Released And You Need To Watch It
7 Times Helena Bonham Carter Did Weird But Awesome Things, Like Cuddling A Fish In The Nude
Erika W. Smith is BUST's digital editorial director. You can follow her on Twitter and Instagram @erikawynn and email her at erikawsmith@bust.com.