While Ilana Glazer may let it all hang out in her comedy show, Broad City, she is very reserved about her personal life. It came as a surprise for us all when Pheobe Robinson, of the podcast Two Dope Queens, posted a congratulatory pic on Instagram, writing: "Belated congrats to these beautiful [babies] on getting hitched. Love you hard and deep. You're truly #RelationshipGoals and inspire me."
According to The Cut, Glazer married long-term boyfriend, David Rooklin, at a small city hall ceremony in February. She has largely kept her relationship out of the press other than a few footnotes here and there, such as a mention in a 2014 profile by The New Yorker, which called him "A trim clean-cut white man in his thirties, with glasses."
Instagram/Ilana Glazer
What we know: He's a scientist and a feminist, and he and Ilana have been together at least three years. Congratluations to the newlyweds! As Ilana would say, #Yasskween.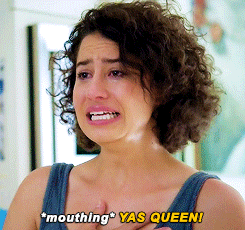 Top photo: Instagram/Pheobe Robinson
More from BUST

Ilana Glazer, Kate McKinnon, And Zoe Kravitz Star In 'Rough Night,' A Women-Led Black Comedy
Broad City Season Four Is Being Filmed As We Speak, And It's Going To Be ELEGANT AF
8 TV Boss Ladies Who Will Inspire You To Get The Job Done
Support Feminist Media!
During these troubling political times, independent feminist media is more vital than ever. If our bold, uncensored reporting on women's issues is important to you,
please consider making a donation
of $5, $25, $50, or whatever you can afford, to protect and sustain BUST.com. Thanks so much—we can't spell BUST without U.