It's a miracle! They alive, dammit. In other words, The Unbreakable Kimmy Schmidt season 2 trailer is out and reawakening our thirst for '90s references, denim jackets, and PEENOOOOO NOIR!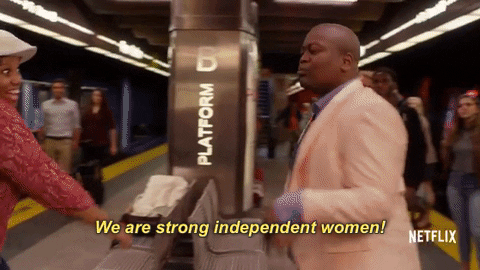 Unless you've been living in a bunker for the last year, you know how important Kimmy Schmidt is and how long it's felt since we binged the first 6 1/2 hour season. We did the math and it's been 22,373.5 agonizing hours since we entered our own inescapable bunker, a.k.a the world without new episodes.
In the trailer, all the characters we live for are back. Kimmy's positivity remains unbreakable as she starts working in a year-round Christmas store; Mrs. Voorheese is scheming to keep herself kept; Titus's sassy advice is all accounted for to reassure us that the Unbreakable Kimmy Schmidt we love is still above ground.
The new season premieres on Netflix on April 15th.
More from BUST
Unbreakable Kimmy Schmidt's Tituss Burgess Wants To Bring Some Pinot Noir Into Your Boudoir
Ellie Kemper On Unbreakable Kimmy Schmidt, Lady Parts & Getting Schooled By Jon Hamm
10 Times Kimmy Schmidt Said Something Awesomely Empowering
Courtney Bissonette is a New York based writer and improv comedienne. She writes primarily about movies, pop cultures and feminist heroes. She gets along best with old people. She has seen more old movies than your grandma, probably. Salt from Salt n Pepa once took her Trick'r Treating. You can follow her on instagram at @gddamnitcourtney or twitter @courttette