It seems like epic envy over celeb female friendships has been a major theme for me this summer. When I saw the recent video of Jennifer Lawrence and Amy Schumer dancing on a piano at a Billy Joel concert, I could barely keep it together. And my desire to be part of the "Bad Blood" squad got even more out of hand when I saw T-Swift and all her ladies at the VMAs last weekend. But I don't think I've ever experienced as much jealousy as I did when I heard the news that the SNL ladies have a group text. Like seriously, how do I get in on that??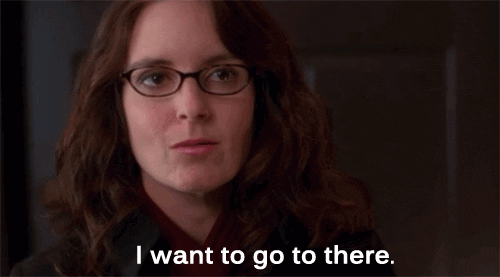 The news of the group text was revealed by Tina Fey last night when she appeared on Late Night With Seth Meyers. Fey admitted she was surprised when her "Flawless" dubsmash went viral because she didn't think it was very good, especially in comparison to another dubsmash video sent to her and the only women of SNL by Maya Rudolph. This is where we got a little sneak peek at what goes on in this incredible group text of funny ladies. You can check out the video below but just a warning, it might make your cry with extreme envy.
Images via youtube/canva and giphy
Read more on BUST.com:
Amy Schumer And Jennifer Lawrence Are Making A Movie Together And We Couldn't Be More Excited
5 Feminist Moments We're Talking About At The VMAs
Amy Poehler And Tina Fey Are Back With The New "Sisters" Trailer
Olivia's first sentence was "No talk, just laugh" and since then, she's made it her business to find the humorous side of life and share her absurd observations with others. She's a writer, a lover of all things pop culture, and she can't fall asleep without having 30 Rock on in the background. If you like looking at pictures of food and random dogs, you should check out Olivia's Instagram.