It's a miracle that Parks and Recreation, a critical darling that never had any security in terms of ratings, made it through seven seasons and never managed to be anything less than great. Last night's finale gave us a glimpse at our beloved characters' futures and was a wonderful tribute to the show's cornerstones of hard work and friendship. These were some of our favorite moments; read on and try not to cry, you beautiful, talented, brilliant, powerful musk oxen. Spoilers abound, of course:
1. Let's get this out of the way: the Parks ladies' future hair is on all kinds of on fleek. Donna and Ann's color highlights? April's grey streak? Admire it all with us:
2. Ann shows up to a reunion and this happens:
3. We recently saw Ron become fast friends with his new barber, Typhoon, and apparently bonding over the ridiculousness of Europeans really stuck. Ron becomes Best Man at Typhoon's wedding to Craig. Tears.
4. Leslie and Ben find themselves in a pickle when they've both been pegged to run for governor. That is, until Ben recognizes—like we all do—that it's Leslie who deserves to run the state of Indiana. He really is the supportive feminist male figure that nerd culture desperately needs.


5. Leslie receives an honorary doctorate from Indiana University—but she's not too pleased with the choice of building they named after her. Punk-ass book jockeys.


6. Donna and April (AKA Satan's Niece) team up for "Teach Yo' Self," because if they've learned one thing from all those years in the Parks department, it's that teamwork makes the dream work, and everything is more fun with a catch phrase.


7. Yet again, one of the Parks pals benefits from Leslie's pushiness. She lands Ron his perfect job as director of the Pawnee National Park, which gave us this perfect moment: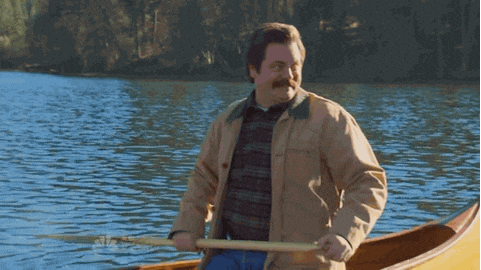 8. Leslie is already trying to set up her son with Ann's daughter—WHOSE NAME IS LESLIE. We can only imagine Leslie One's blubbering when she found out a child was to be named after her (especially Ann's). Maybe it's good we didn't get to see that moment.
9. Joe Biden apparently gets exasperated with Leslie's zeal for charades. We get it—she can be a tad too enthusiastic sometimes. Also, the fact that this show can get the Vice President on for cameo number two and it not be that big of a deal is incredible.
10. Finally, our one question: does Leslie become President? The show's writers left that purposely ambiguous, so we get to decide (a la Tony's fate at the end of The Sopranos). In our hearts, of course, Leslie does become President. What else would account for those secret service dudes with her and Ben at Jerry/Garry's funeral?


Thank you, show, for giving us so much joy over the years. We look forward to marathon watching while eating generous heaps of waffles and bacon-wrapped shrimp many times in the future.
And thank you, finale, for gifting us this perfect quote from Future President Knope:
"Teddy Roosevelt once said, 'Far and away, the best prize that life has to offer is a chance to work hard at work worth doing.' And I would add that what makes work worth doing is getting to do it with people that you love."
Images c/o NBC, Giphy