1. Kenyan AA Whole Bean Coffee by Ajiri Tea, $17.00
Ajiri: To Employ
In the city that never sleeps, coffee becomes our best friend, and there's no better way to begin a good day than with the perfect cup of Kenyan Coffee. Ajiri Tea offers whole bean Kenyan Coffee, perfectly paired with subtle citrus and berry flavors to begin a morning in good taste! Ajiri Tea lives up to the translation of their name: this company donates 100% of their profits to orphan education, their coffee and tea is cultivated in Kenya and every label is individually hand-designed by Western Kenyan women on dried banana leaves. Help support the effort to create an independent, self-sustainable community that isn't functioning on unreliable international sponsorship. Ajiri now fully sponsor 29 orphans – so give the gift of giving this holiday, and help this company support even more kids!
2. Run For Office Necklace by Activated NYC, $38.00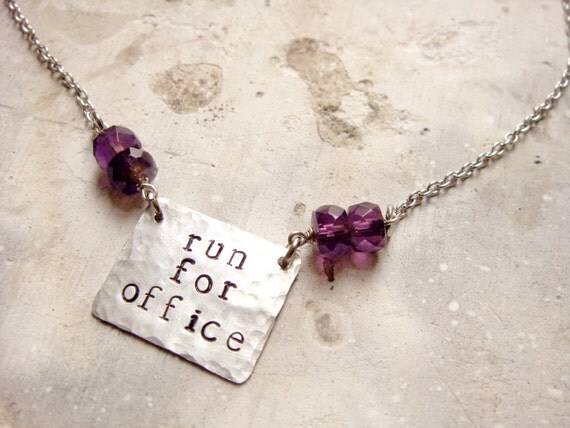 This bracelet speaks for itself (literally) and its message is most important in today's age. Remind your loved ones that their voices must be heard, and that it's time to wake up and resist! Gift awareness and motivation to those important to you. Activated NYC specializes in feminist jewelry, creating pieces to spread solidarity with this uplifting accessory for every outfit. Whether you're resisting the policies of "Not My President" or just generally supporting women (as you should), show your voice in style.
3. Purple Peacock Polymer Clay Feather Pendant by Artifacts Everyday, $65.00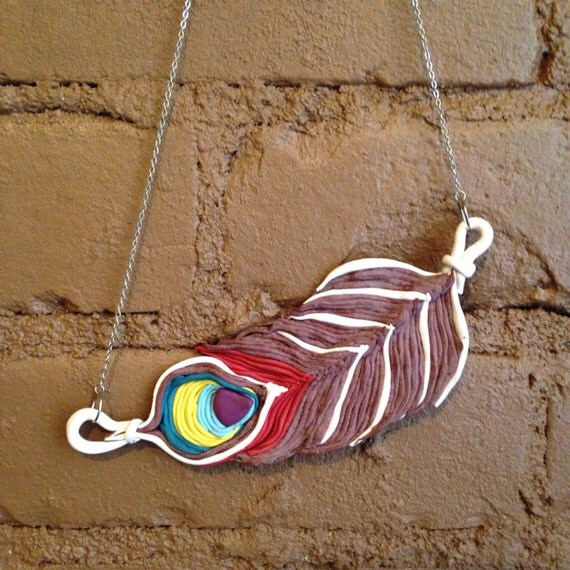 Celebrate and share the story of Aztec Goddess Xochiquetzal with this handmade clay necklace! Boston-based Artifacts Everyday creates beautiful pieces from polymer clay. Whether it's a wave choker or a Cleopatra headpiece, designer Elle Marrone's pieces are sure to catch attention and start conversations.
4. Dominican Republic Dark Chocolate by Dalloway, $9.00
Share and savor the flavors of currant and sour cherry in this chocolate bar hailing from the Dominican Republic! Dalloway Chocolate is a Brooklyn-based company that swears by the power of cacao and the love it spreads. This is the first coffee company that's owned by a queer couple with a passion and mission for "building love and community with chocolate." Help spread the deliciousness of the message of love while supporting the LGBTQ community and gift these tasty chocolate bars this year.
5. "Witches Against Hate" Button by Chloe L Wilkinson, $3.00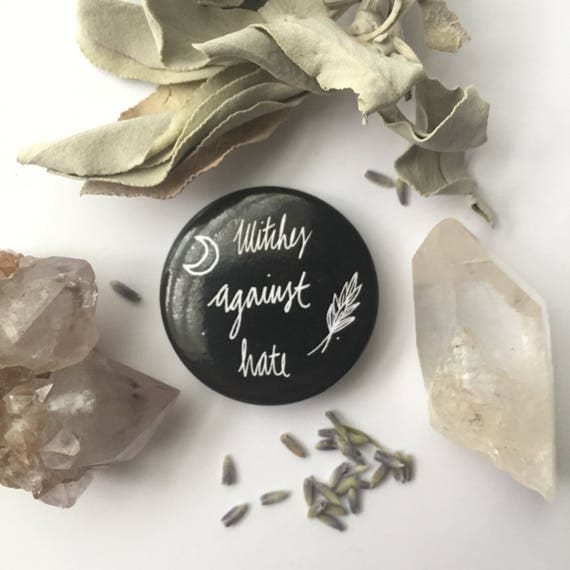 Help witchy feminists fight against all types of hate with this pin. Adorned with sage and the moon, every focal equalist can show racists and prejudicists what's really going on without speaking a word. Chloe L Wilkinson is a New York-based artist who uses Surrealism and Victorian influences to design art prints, pins, and patches. Her photography is stunning and focuses on the true wonders of nature.
6. Busy Bitches Candle by SugarBush Babes, $15.00
Show your girl you support her nonstop hustle bustle with this "Busy Bitches" candle. SugarBush Babes offers this hand-poured vegan soy wax candle. This candle offers enticing scents of green tea and lemongrass to offer a relaxing solace to the go-getter bitches. True bosses never slow down or care enough to stop, and this is a message SugarBushBabes supports and promotes. Creator Dianna Pena, a previous Motorcycle Company apparel buyer, is all about strong women who flourish in their freedom, confidence, and style. Plus: all NYC biker babes, come check out her bike garage in Ridgewood! There's storage, shopping, and a technician to assist with repairs.
7. Nectar Fire Tonic by Hany's Fire Tonic, $15.00
Give the gift of good health available from Hany's Fire Tonic with this Nectar Fire Tonic. Apple Cider Vinegar is known for its health benefits, and owner Hany has created the perfect recipe infusing this into recipes perfect for all taste preferences and lifestyles. Hany's Fire Tonic has four delectable flavors to choose from that have been handcrafted in Brooklyn. You can check out their blog to learn even more about all their tonics and learn which one is perfect for you!
8. Designer Pussy Tee by Geneva Diva, $25.00
Help your girls let all suitors know what they're really dealing with this shirt! This silkscreen shirt is handmade and is one of the outspoken pieces available from Geneva Diva. Whether you're in search of keychains, spunky thongs, hoodies, or crop tops, don't hesitate to scroll through their Instagram to see what other badass products are available.
9. Long Black Gloves by LamiaDesign, $101.00
These open-fingered gloves from Lamia Designs are showstoppers to step up any outfit to the next level. Show off your sassy manicure or new ring collection with these, all eyes are sure to be drawn right to it! Lamia Designs has worked for years in the fashion world, and is open to your own ideas for different design ideas or material choices to make your dream gloves your own reality. Check out her blog here to see all the different styles she's mastered!
10. Awaken the Scorpion Ring by MERCURY HOUR, $110.00
This breath-taking ring is sure to startle some, but let it be a forewarning to foes of your true strength within. Mercury Hour incorporates the strength of power and rebirth into this ring, and have been incorporating all that scorpions stand for into their masterpieces since 2014. This ring holds a story itself, and there's little better gift than an incomplete story to partake on a journey. Plus, labradorite, the stone of transformation, is embedded in the center, making sure to guide and protect your friend to holding their consciousnesses strong. See all the stunning work done by Scarlett C. Dancer in her lookbook!
11. The Dark Amethyst Crown by Judy & Madeleine, $44.99
Become the literal feminist goddess that you are with these magical and mystical crowns from Judy and Madeleine. These handcrafted headpieces are inspired by infamous paintings, films and books and every piece is made-to-order. This means that you can be the envy of everybody and anybody while wearing your unique headpiece as you strut down the runway of the city streets and smash the patriarchy with every step.
More from BUST
12 Brand-New, Woman-Centered Movies, TV, Books, And Music To Get Into This Weekend
Y La Bamba Talks Identity And Self Expression: BUST Interview
Alaskan Cops Say They Have A "Right" To Sexual Contact With The Sex Workers They're Investigating
Shannon is a 24-year old living in Brooklyn who came to the city with open eyes and an open heart. Traveling is food for the soul, and laughter, late nights, and priceless memories is all she's in search of.