Dolly Parton is a lot of things: A country music goddess, a badass business bitch, a BUST cover girl and, above all else, a fierce fashion icon. When it comes to her style, big is better; big hair, big breasts, big lips. And she's all about that sparkle. In honor of her slamming style, here are 5 items that go way beyond a coat of many colors.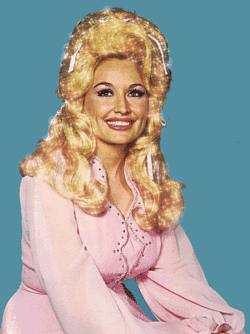 1. Dolly '72 Linen Muscle Tee from Midnight Rider, $76.00
2. Dolly Parton Illustrated Leggings, $48.00
3. Dolly Parton Hero Worship T-Shirt, $22.50
4. Pink Floral Dolly Parton Shirt, $48.00
5. What Would Dolly Do T-Shirt, $18.80
image via giphy.
More from BUST
Seven Incredible Dolly Parton Facts In Honor Of Her 7th Decade
From The Archives: Dolly Parton's BUST Interview
Dolly Parton's 'Coat Of Many Colors' Will Air On December 10th And We Cannot Wait
Olivia's first sentence was "No talk, just laugh" and since then, she's made it her business to find the humorous side of life and share her absurd observations with others. She's a writer, a lover of all things pop culture, and she can't fall asleep without having 30 Rock on in the background. If you like looking at pictures of food and random dogs, you should check out Olivia's Instagram.