It's been a shitty couple of weeks. Given the political climate, the actual climate, and that little old impending nuclear war...well, sometimes we need solid tunes to get us through the day OR get us off our asses. Enjoy this Summer Empowerment Playlist, chock-full of bad ass babes pumping out killer jams:
You're making protest posters: "Rhythm Nation" by Janet Jackson
You had a badass day at work and totally shut down Chad: "Bossy" by Kelis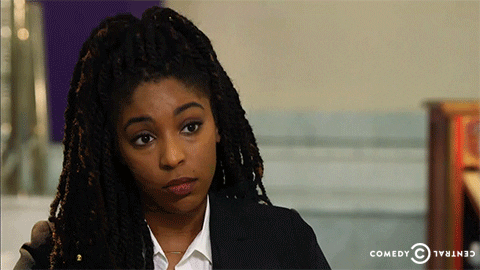 Oh, and you also shut down Todd when he tried to steal your idea: "Hit Me With Your Best Shot" by Pat Benatar
You rolled the fattest blunt this side of the Atlantic: "Bad Girls" by M.I.A.
You totally owned that Buns of Steel workout: "Booty" by J.Lo
You persevered through a shitty panic attack: "Roar" by Katy Perry
You got a new vibrator: "Oops" by Tweet
You made it to payday! "Cash, Diamond Rings, Swimming Pools" by Dena
Your bae goes up to do karaoke and totally picks Ginuwine's "Pony": "Take It Off" by The Donnas
You broke a heart and are sorry not sorry: "Dancin' With Myself" by Robyn
You maybe just scored a super hot threesome for Friday night: "Hands to Myself" by Selena Gomez
You won the shove war during your morning commute on the subway or bus: "Barracuda" by Heart
Your Advil finally kicked in and your cramps are easing into a blissful uterine cloud: "Sheezus" by Lily Allen
You just booked a dope Airbnb for the weekend on the Lower East Side: "I Can't Wait" by Nu Shooz
Your glare stopped a catcaller dead in his tracks: "Ladykiller" by LUSH
You crafted a "Patriarchy" voodoo doll, complete with poorly-fitting two piece suit: "Oh Bondage, Up Yours!" by X- Ray Spex
top photo: still from Kelis "Bossy"
More from BUST
Florence Welch, Before "High As Hope": From The BUST Archives
Alice Bag On Getting Older, Being Brash, And How Artist Can Fight Back Against Trump
The Uncompromising Queer Gaze Of Hayley Kiyoko
Melanie LaForce is the author of the funny-awesome book Corn-Fed: Cul-de-Sacs, Keg Stands, and Coming of Age in the Midwest. Find her zine at reclusebabe.com; on IG @reclusebabeofficial, and Twitter @recluse_babe.