It's the future I can see: And in it is New York-based DJ That's So Raben. As if her weekly PUSSYPOWER Party isn't cool enough, Alanna Raben made our inner dancing queen bust out once again when she spun her killer beats for Carrie Hammer's show at New York Fashion Week for the fourth time.
That's So Raben's mix for Carrie Hammer's fall show combined the '90s sounds of the Spice Girls and Destiny's Child with modern tunes from artists like Iggy Azalea, Nicki Minaj, Jessie J and Ariana Grande.
To make things even better, walking down the runway to this epic mix were real-life women through Carrie Hammer's fourth "Role Models Not Runway Models" show. CEOs, journalists, business bosses, activists and even an Olympian were among the real-life badass women strutting their stuff down runway in the designer's new collection.
This lady-power mix combined with Carrie Hammer's "Role Models Not Runway Models," walking down the catwalk is just so much YES. Bump these beats next time you're getting ready to go out, falling asleep at the office or needing a little boost. Warning: Dancing is inevitable.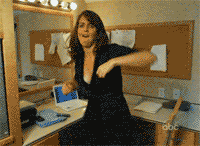 If you are in the NYC area and want to dance along to That's So Raben's confidence-inducing tunes, check out her PUSSYPOWER Party. It's an all-lady line up and dance party at Baby's All Right in Brooklyn, thrown by girls for girls to empower all women.
Photo via Twitter.
GIF via Giphy.
More from BUST.com:
Lady Gaga's New Music Video 'Til It Happens To You' Raises Awareness Of On-Campus Rape
21 Female-Fronted Bands You Need To Listen To
You Have To Watch This Music Video About Periods And Menstrual Cups