I was always the little girl with a million best friends. The word "friend" never felt strong enough to describe our closeness. They were my best friends.
Over the years, I've watched that number shrink — understandably. There's no way I could have upheld my long roster of best friends into my adult years; it was simply not sustainable. Between high school drama, faraway college campuses, long-distance phone calls, cross-country moves, personality shifts, marriages, break-ups, career changes, kids — there are bound to be explosive fallouts and quiet fadeouts between friends. It's all part of the human experience.
Time has proven to be the best test of friendship. What I find fascinating is which of my friends have had the most staying power, and which of them have dropped away.
When I look around at the people who I count as my closest friends today, I am surprised by what I see. Women that I thought were going to be my friends forever have disappeared from my life. Similarly, I have lost touch with several people with whom I have shared extraordinary experiences.
Friends are our chosen family. In some way, they are like family in that we might not have a ton in common with them. But unlike our family, we choose to have them in our life. The reasons we have them in our life have to be more deep-seated than a shared history or interests.

Time has taught me how things like politics and hobbies don't matter all that much in a friendship. I am an adventurous, dirt-loving tomboy. Meanwhile, my best friend is a makeup fiend who loves nothing more than a good mimosa brunch and a shopping spree. Of course, we share a few superficial interest, such as a love for Beyoncé and boozy dance parties. But more importantly, she calls me when she knows I'm having a tough week. She stops by my house on her way home from work for a glass of wine. She keeps track of me even after I've moved away.
These cosmetic superficialities say nothing about someone's ability to be a good friend. I've had friends who share my love for the outdoors but can't return a missed phone call to save their life. My closest friends may not enjoy getting dirty and sweaty, but they know how to be a good friend — to me.
Of course, we all have different definitions of what it means to be a good friend. When I think about the most meaningful friendships in my life, they are with people that share similar emotional needs as my own, rather than a list of hobbies and interests.
I get bummed out when I hear people write off a potential friendship for the single reason that the other person is too different than themselves. I count those differences as a blessing, not a curse. I don't want to hang out with people who are just like me all the time. Like in nature, diversity is a good thing.

I am in my late twenties now and I see friendships much differently than I did a few years ago. I have decided that I will only feed the friendships that feed me in meaningful ways. In the past, I wasted a lot of time on people who were not putting in equal amounts of effort into our relationship. I was doing this because I couldn't believe that someone I had so much in common with would not be my friend in the long run. Friendships require energy and effort, and not everyone will be willing to put in the necessary effort to make your friendship last. Regardless of shared history or a shared love for hula hooping, time will show us who are true friends are.
In that same vein, let people surprise you. Remove your ideal image of a friend and replace that with a core set of values. Once you do, you will open yourself up to a whole world of friendships that were right beneath your nose. Friends come in all shapes and sizes, all ages and even species. You might have the friend you are looking for right in front of you, but you are not giving that friendship a chance because of the cosmetic differences in your personalities.
Be open to friendships with people who are different from you. Get below the surface. Do you share similar deep-set values? Do you both believe in family, or the need to do good in the world? Also, you may be surprised what aspects of someone's personality might emerge over time—character traits that you may not have seen at first. Don't write people off just because they don't check all the same boxes as you do. Friendship is not about hobbies—it's about values.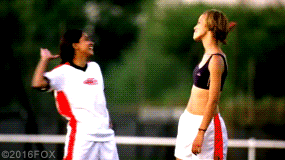 In reality, my closest friends don't always have the most in common with me. These lasting friendships are not necessarily the ones with the most exciting history and backstory. They're often the quiet friendships that have stayed solid without much fanfare and hype, and I am grateful for their staying power.
Top photo: Golden Girls
More from BUST
The Golden Girls Are Heading To The Stage!
Here Are 17 Photos Of A Woman Celebrating Her Job Offer Like An Engagement
The Feminist Reason Millennials Are Having Less Sex
Carmella de los Angeles Guiol is a writer and educator living in South Florida. She has traveled to five continents and has worked as an artisan baker, organic farmer, and deck hand on a luxury sailboat. You can often find her kayaking the Hillsborough River, but you can always find her at www.therestlesswriter.com / @xRestlessWriter.