What is a witch? The term has morphed over time from wise woman and priestess to practitioner of the dark arts and enemy of Christianity. The witches of fairy tales embodied undesirable characteristics of womanhood like jealousy, ugliness, independence, and old age. We cannot help but notice the similar criteria for killing women in the witch trials of the Middle Ages and beyond. The majority of women accused and killed for witchcraft were older women, often single or widowed, who acted as healers and midwives for their communities. So perhaps witches scare people not because of their communion with the devil but because of their knowledge, independence, and challenge of the status quo.
A W.I.T.C.H. protest
People practice witchcraft in different ways, from natural healing and engagement with the earth to the casting of spells. In the '60s a radical women's group W.I.T.C.H. (Women's International Terrorist Conspiracy from Hell) staged protests in witch costumes on Wall Street. The spectrum is endless but here are some suggestions for novice witches to get their powerful-spooky-mystical-selves going.
1. Gather The Coven
Independence doesn't mean you ditch your partners in sorcery. Dance like everyone is watching but YOU DON'T EVEN CARE!
2. Create Your Own Perfume
Smell is a powerful force in memory and presence. Make your own signature scent and learn about what smells calm and bewitch you! Check out this basic tutorial below and go from there.
3. Top Off Your Look
Fortune favors the brave and so does fashion! Witches are known for their accessorizing powers especially when it comes to hats. You think you're not a hat person? Just see how you feel after a day.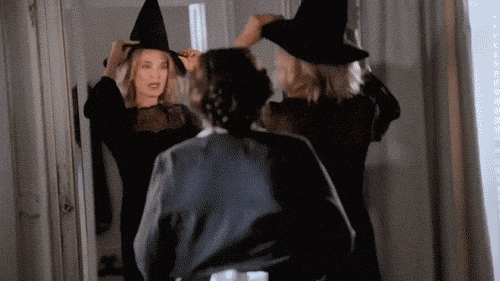 4. DIY Crystal Ball
Witches strive to know themselves and cultivate their discernment. Tarot cards and crystal balls aren't just for telling the future but for exploring your interior self. If you don't have a crystal ball lying around, try cracking an egg into a glass of water as you think of a question about yourself. Look for the answer in the unfurling goo!
(Little known fact: this game was said to have sparked the Salem Witch Trials)
5. Find Your Inner Witch
Witchiness is about accessing the power of your womanhood and no one else can divine that for you. So last of all, do you! You love it, so we love it.
Images via: jonmwessell.wordpress.com, occultchicago.BlogSpot.com, thereddeeps.BlogSpot.com
More from BUST
Shop Fabulous Flapper Fashion Inspired By 'Miss Fisher's Murder Mysteries'
Man Wins The Best Father Award For His Son's Queen Elsa Costume
Big Freedia, Queen Of Bounce, Shares Her Beauty Secrets