Trigger Warning: This post contains a description of sexual violence that may potentially be triggering for survivors of sexual assault.
A 15-year-old girl was found last week in Northern California's Lake County. She was a runaway from Los Angeles. It is believed that she was living on the streets in Hollywood when she encountered 30-year-old Ryan Alan Balletto and 25-year-old Patrick Steven Pearmain, her kidnappers.
Balletto and Pearmain, pictured above, maintain their innocence, but the girl said that she was forced to spend up to three days in a 4-foot long, 2-foot wide and 2-foot tall metal toolbox and to work on their marijuana farm. Balletto called her a "trooper" because she didn't scream while held captive in the box. The box had a series of air holes on the surface so the girl could breathe and, occasionally, the men would insert a hose into the box to hose down the girl and her excrement.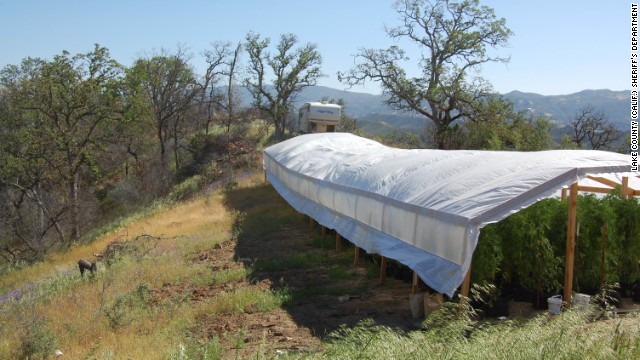 The grow farm the victim was forced to work on.
A few weeks after the girl had gone missing the LAPD had received a tip the girl was being held captive in a box at an undisclosed location in Northern California.
Federal investigators had been preparing to raid Balletto's grow farm for months when local officials said the girl called the police from a hotel, saying that she was okay, and that she was with someone named Ryan.
The police traced the call and found her in a hotel room with Balletto and Pearmain. In the room they found marijuana, prescription drugs, condoms, a pregnancy test and a notebook, which was filled with a script for the girl to read to the police.
The box the victim was kept in.
On the property the police found a collection of weapons and guns along with instruments used during bondage, including a homemade wooden body rack that was used to mount and immobilize the victim.
According to the girl, Balletto and Pearmain repeatedly had sex with her and locked her in the box to "prove a point". Although the girl asserts that many of the acts were consensual, the girl by law cannot consent to sex, as she is 15.
As of now, the victim is said to be in a safe place while Balletto and Pearmain are being held without bail. Authorities have also arrested a third man, Eric Edgar, on suspicion of sexual assault in connection with the case.
The most haunting part of this whole ordeal is that there could very well be more victims - it is still too early in the case's development to know.
Sex crimes and the sexual assault of a minor are extremely serious. These crimes are absolutely devastating to the physical and psychological state of the victims. Such attacks, especially involving the abduction of a minor, cannot be looked past or forgotten; only with awareness, outrage and support can we stop sex trafficking.
Source via The Chicago Tribune
Photographs via The San Francisco Chronicle, CNN and The LA Times