Miley Cyrus was veritably born into the industry – as the daughter of famous country singer Billy Ray, she was a household name by the time she was 15, starring as Hannah Montana in her very own Disney channel show. There, she cultivated a persona as a modern southern belle: fresh-faced, down-to-earth, and unpretentious.
If you've paid attention the last couple of years, she's been busy doing what plenty of teenaged starlets do as they transition into adulthood – trying to shed the juvenile image and trade up to something sexier.
Miley's trajectory wasn't abnormal; she chopped off her hair a la Emma Watson, started wearing crop tops, and got caught smoking (salvia?) on camera.
But recently – Miley's been sporting something a little different from the ingénue pack that she grew up with. She's been twerking.
Twerking is a dance style that involves "shaking the upper and lower hips in an up and down bouncing motion," which was influenced heavily by the New Orleans bounce music scene, and can be traced further back to traditional African dance forms. It's been referenced in hip-hop and electronic songs by everyone from the Ying Yang Twins, Drake, to Diplo.
If you've never seen someone who can actually twerk well (understandable – it's really difficult!), here's an excellent example: Big Freedia, a stunningly talented genderqueer bounce musician from New Orleans, is an expert.
Miley's skills, on the other hand, are … debatable. She debuted her dance last March when she released a video of herself twerking to J. Dash's WOP in a unicorn suit (?!). Since then, she's gone on stage with rapper Juicy J, showcasing her prowess in a June concert, posted Twitter pics of herself labeled "Miley Cyrus Twerk Team," and talked about her newfound enthusiasm for the move on many a talk show.
Miley with rappers Wiz Khalifa and Juicy J
I tried to ignore Miley's antics for as long as I could. After all, her catchphrase said it all – she's just bein Miley! But when she dropped her video for We Can't Stop, a catchy, summer-fueled jam made popular by famous hip hop producer Mike WiLL (who's worked with the likes of Kanye West and Lil Wayne), it became impossible to look the other way.
That's because We Can't Stop – not to mention Miley's Twitter, persona, and overall attitude – is riddled with cultural appropriation. (If you haven't seen it already, go get ready to vom on your keyboard by watching it here.)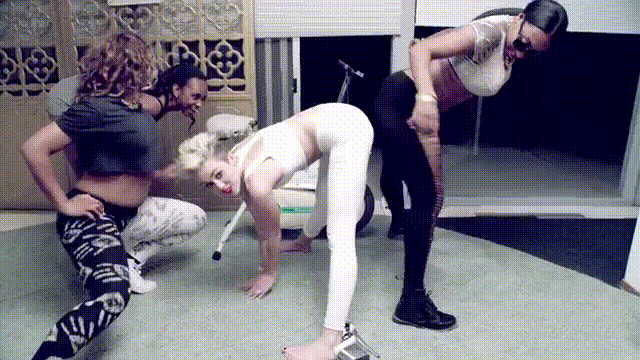 The video features Miley writhing around in an (aptly enough) all-white getup, surrounding herself with black people, who are supposedly her friends and party guests. She's wearing a gold grill. Black women twerk around her in the background as she grabs their asses and sticks her tongue out cheekily at the camera. Basically, as VICE says, it shows her accessorizing with black people, using them as props to boost her authenticity as she tries a different sound in her music. AKA she literally said to her songwriters, "I want urban, I just want something that just feels Black."
The message of the song is pretty simple, and matches the tone of most of Miley's public image recently. She's all grown now. She's independent. Whatever, Disney Channel! She'll do whatever she likes, because she DGAF.
Here's why you should give a fuck, Miley. Because you grew up steeped in white privilege; with your father's name, you've been wealthy your entire life. Because your simultaneous appropriation and stereotypying of black culture is harmful and oppressive. You can twerk and pretend to be "ratchet" but it only lasts for the three minutes and 34 seconds that you're on screen, and then you can take it all off and live life as the privileged white girl that you are. Other people of color can't do that. They have to deal with the awful stereotypes, the racism, the discrimination that comes attached to their non-whiteness.
A comment on the youtube page for "We Can't Stop" really sums up why everything about this sucks: "I love how miley twerks. its not the casual black girl, big ass, twerk, but a white girl showing off her moves. loved it!" Great – so not only are we into the appropriation and exploitation of black culture for profit, but now we're mocking and degrading that very culture when it's authentically performed by black people, only to praise it when it's performed by white people? Ugh.
Azealia Banks took to Twitter to call out Miley for her behavior.
When Miley fired back at Azealia defending herself, the rapper replied with trademark sass: "I wasn't even talking about you…LMAO…but if the shoe fits :-/ "
Perhaps most interesting is Jay-Z's Miley shout-out on his song Somewhere in America, off of his highly anticipated Magna Carta Holy Grail. Jay's had perhaps the most lucrative career in hip hop…ever. He started out rapping about pushing crack on the streets, then he was Big Pimpin' and poppin' champagne on boats, and now he's worth half a billion, married to Queen B with a beautiful daughter. Nothing says it better than his own line: "I'm not a business man, I'm a business, man!" As of late, his lyrics are likely to be about cars, cash, culture, and corporations – perhaps even art!
So what does this lyric - "Somewhere in America / Miley Cyrus is still twerkin / Twerk, Miley, twerk" – mean?
My favorite hip hop analysts over at RapGenius provide some much-needed insight, suggesting that maybe Jay is just returning the favor with his lyric, a callback to Miley's old Party in the USA line, "I turned on the radio, and a Jay-Z song was on…"
The "Feds still lurkin / They see I'm still putting work in" that precedes his chorus of "Twerk, Miley!" might be a reference to Mr. Carter's influence. Miley (and sometimes Britney) is a term that rappers sometimes use as a metaphor for white girl, or cocaine (a trick that the pop star uses too - when she sings about dancing with Miley, it sounds conspicuously like Molly, a term for MDMA). In his youth, Jay made his money drug dealing; now, although he is past that life, he is still a prominent force, basically acting as a "pusher" for culture. "Although Hova may no longer be moving weight, he believes he's now much more of a threat to the establishment because of his cultural capital. Without hip hop's influence on mainstream culture, does anyone think Miley Cyrus would have ended up twerking with Juicy J onstage?"
Miley, on the other hand, is lovin' the attention, tweeting Jay-Z's lyrics with the hashtag "out with the old, in with the new."
For simplicity's sake, I'd love to be able to blame this on Miley on call it a day. She could, as Professor Akil Houston of Ohio University says, probably use an African American Studies class. But I know that she's just a young starlet who is, I'm sure, being manipulated by a whole slew of people so that she'll bring in the most bucks. As long as racism and sexism remain heavily ingrained into the industry, we'll never stop promoting the consumption and objectification of bodies, especially those of women, people of color, and other minorities. It's a particularly vicious cycle, as this trend will in turn inspire privileged youth around the country to think that it's okay to use people of color as props. So, Miley – We Can Stop. If it's really we who own the night, if it's our party and our rules, let's make it one that doesn't involve oppression or racism – let's make it a good one.
Sources: VICE, Madame Noire
Photos via sodahead, fanpop, neonlimelight, billboard, usmagazine, papermag, tumblr