Unsurprisingly, when asked about the gender wage gap, none of the GOP candidates had anything useful to say during the debate last night. Carly Fiorina took the time to attack Hillary Clinton because of President Obama's economic policies:
"It is the height of hypocrisy for Mrs. Clinton to talk about being the first woman president when every single policy she espouses, and every single policy of President Obama has been demonstrably bad for women. Ninety-two percent of the jobs lost during Barack Obama's first term belonged to women."
Senator Ted Cruz derided equal pay laws as "empowering trial lawyers to file lawsuits." He then talked about all the single moms he knows, including his own mother. He then went on a bizarre and wholly irrelevant bit about how his father left them both when he was 3-years-old, found a Bible, was born again, and returned. He returned to talking policy and repeated Fiorina's misleading claim that democratic policy fails women because the number of women in poverty increased when Obama took office.
Both Cruz and Fiorina's nearly identical claims, that Obama's economic policies, and democratic policies in general, are bad for women because of the increase in female poverty and job loss, were recycled bits from Mitt Romney's 2012 presidential campaign. They are also bits that Politifact proved "mostly false" back in 2012:
"First, Obama cannot be held entirely accountable for the employment picture on the day he took office, just as he could not be given credit if times had been booming. Second, by choosing figures from January 2009, months into the recession, the statement ignored the millions of jobs lost before then, when most of the job loss fell on men. In every recession, men are the first to take the hit, followed by women. It's a historical pattern, Stevenson told us, not an effect of Obama's policies."
Neither one suggested any policy, neither one gave a substantive answer of any kind, and certainly neither one came within ten miles of addressing the wage gap for women of color, which is much worse than for white women; according to whitehouse.gov, African-American women earn 64 cents and Latina women earn 56 cents for every dollar earned by a white, non-Hispanic man. We got nothing but the oft-repeated "big government bad, Obama is the devil, elect me because Jesus."
Hillary Clinton, in response to Cruz and Fiorina's empty claims, tweeted this: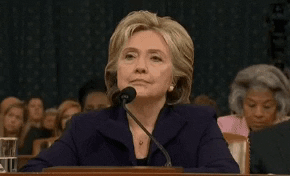 Images via CNN (screenshot) and Twitter
More from BUST
Republic Debate Candidates Have No Idea Which Woman to Put On The $10 Bill, Default To Their Mothers
More Reasons Why Donald Trump Is The Worst
Women Get A Pay-Gap Discount At This Portland Record Label
Taia is a fabulous human who is working and writing in New York City. She writes about politics, reproductive rights, and pop culture. When not writing she likes to sleep, read Carl Sagan, and do as many squats as her legs can handle. Follow her on Twitter @taiahandlin and Facebook as Taia Handlin.