"Went to the bar, ordered a Shirley Temple, pretended to be African" – I read over the caption beside the two images depicting a woman in brightly patterned clothing, and my eyes scanned wildly as I tried to comprehend why the black, smiling face in the photographs was connected to pale, white shoulders.
The original set of Facebook photos, which depict a white woman in blackface, were shared on yoga instructor Freidel Kushman's personal Facebook page on September 28th. The photos have since been shared over a thousand times and have over seven hundred comments.
The reason behind why these photos were posted – or whether they in fact depict Kushman – is still up for debate.
Regardless of Kushman's complicity in what is turning out to be a rather unfortunate publicity scandal, what was most interesting was not the photo itself, but the sentiment clearly demonstrated in the thread attached to the photos: that too many people still do not understand why blackface is not okay.
If You Think It's Okay, You Are Wrong
Scrolling through the thread, I was relieved to see that many people had made surprisingly eloquent arguments condemning the photographs. More than a few comments spouted angry, one-line rebuttals while others simply posted sarcastic memes without offering any verbal analysis.
While the photos themselves were hard to look it, the insidious words scattered throughout the thread defending the act of blackface were harder to digest.
Several individuals attempted to argue that the individual in the photos was simply "expressing herself" and that her intentions were "golden" because of her humanitarian background. Others, including some self-identified black Americans, claimed they thought the post was funny and that people should reserve their uproar for bigger issues, such as poverty or world hunger.
However it is framed, and regardless of the fact that there may be other important issues happening in the world, painting your face dark or black in order to imitate someone from a race other than your own is never okay. In fact, making a mockery of people based on their skin color is wrong, and always has been.
As one of the commentators on Kushman's post put it, "another person's skin is not a fun costume for you to 'try on.'" This becomes especially true when the skin color being tried on is has been historically attached to systemic oppression and institutionalized abuse.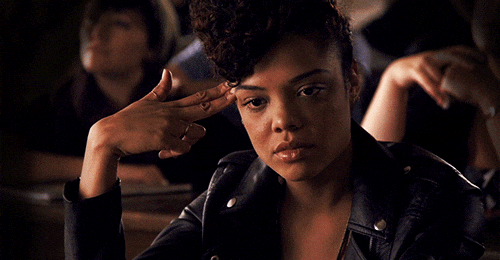 Intentions are Irrelevant
To some of us, the fact that blackface is never tolerable under any circumstances is quite obvious. After all, in recent years, there has been an increased presence of blogs and other media discussing topics such as cultural appropriation and blackface. To boot, all anyone really has to do is type in a few key words into Google and they will be met with an endless supply of educational articles and infographics explaining in great detail what the problem is with these racist behaviors. So how is it that there are still so many people who just don't seem to get it?
Today, there are still too many individuals caught up in the idea of intent. We hear similar arguments as some try to rationalize cultural appropriation as cultural "appreciation." And yet the truth is simple: intentions don't matter.
Blackface is an act that has been used throughout history to dehumanize African Americans and –because of this history – it is never an acceptable thing to do. So in the case of these photos the intentions behind them just don't matter.
Quite frankly it doesn't matter if you're the Dalai Lama or the Pope, if you paint your face dark or black for any reason, you are performing an act of violence and therefore your intentions are irrelevant.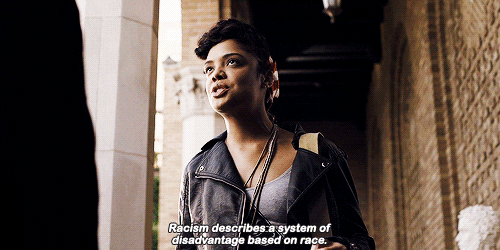 (TL; DR) If You Wear Blackface, You're A Racist
There are some who argue that it's acceptable to paint your face black if you are not a racist. However, what these individuals don't seem to get is that you cannot paint your face black without being racist.
As a non-black person of color, I do not know what it feels like to be a person of African-American descent, so I cannot possibly know how it must feel to come across a photo of a white woman with her face painted black, dressed up in pseudo-African garb "pretending to be African."
I am not here to give an in-depth African American history lesson because it is not my story to tell. I am, however, here to implore the greater online community to consider for a moment that, regardless of intention, there is never an acceptable reason to wear blackface.
It doesn't matter if you built houses for disadvantaged Mexican families last summer. It doesn't matter if you volunteer at a homeless shelter on the weekends. It doesn't matter that you have a black friend, or a bachelor's degree, or that you work at a yoga ashram. If you wear blackface, you are participating in a heinous act of racism and, by extension, you are a racist.
Read that again, and let it sink in.
Photos: Facebook/Freidel Kushman, obtained 9/30 before deactivation; Ohio.edu; "Dear White People" on Giphy
Read more on BUST.com:
Paula Deen Never Learns - Now, She's Posting Pictures Of Her Son In Brownface
Fashion Magazine Puts White Model In Blackface
"We're A Culture, Not A Costume" Campaign Reminds Us: Don't Be Racist On Halloween
Ludmila Leiva is writer and artist based in Brooklyn. She likes telling stories that matter, and her work has been previously published in the New York Times' Women in the World and Brooklyn Magazine. You can follow her on Twitter and see more of her work at ludmilaleiva.contently.com.