New York Comedy Festival is having its most lady-tastic year yet. The 13th annual festival includes so many of our favorite funny women that we can barely list them all. Here are a few you'll want to get on your radar:
• Tina Fey will head a panel with the writers of Unbreakable Kimmy Schmidt
• Jenny Slate will bring back her show "Big Terrific," with Gabe Liedman and Max Silvestri
• Tig Notaro will perform at Carnegie Hall
• Bridgett Everett will perform at Town Hall
• Cameron Esposito will perform at NYU
• Julie Klausner will show one of her favorite films, After Hours, with discussion
• Comedians including Aparna Nancherla, Michelle Wolf and Kerry Coddett will skewer stereotypes about women in comedy with an all-women standup show
• Sasheer Zamata, Michelle Buteau, Zainab Johnson and Gina Yashere will host Sisters of Comedy with some special celeb guests; Sasheer will also host her own show
Plus, fine, there are some dudes performing that you might care about too, including Hannibal Buress, Trevor Noah, Bill Maher, Marc Maron, Patton Oswalt, Tracy Morgan and Tim Minchin.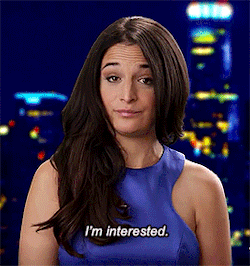 "We're happy about having lots of women in the festival this year," founder Caroline Hirsch told BUST in an interview, adding, "it wasn't intentional, there are just more women around at this point, which is kind of nice!"
Hirsch, who is famous for spotting comedy talent, adds that there are quite a few up-and-comers you should try to catch this year before they become superfamous, including Liz Treyger, Yamaneika Saunders, Janelle James and Emma Willmann.
This year, you can also expect some election-themed humor — a rarity, as the festival is usually held after election day. "The way this fell, we said, 'Let's do it before so we can get all this great commentary as part of what's going on,'' Hirsch explains.
Hirsch will be running around from show to show, greeting each performer before they go on and catching the start of their set before heading on to the next. You might not be able to do the same, but we know you'll want to catch as many acts as possible!
New York Comedy Fest will be held November 1-6 and you can find tickets and show info at nycomedyfestival.com.
Top photo: 30 Rock
More from BUST
Lisa Lampanelli Tackles Weight And Body Image In Her New Play 'Stuffed'
Drunk History Covered The Stonewall Riots Better Than A Whole Movie About It
11-Year-Old Comedian Saffron Herndon Is A Comedy Queen: BUST Interview
Erika W. Smith is BUST's digital editorial director. You can follow her on Twitter and Instagram @erikawynn and email her at erikawsmith@bust.com.