It's official. Serena Williams has been named Sports Illustrated's "2015 Sportsperson of the Year." She is the first individual woman to recieve the title in more than three decades, and after the year she's had, SI couldn't have picked a more deserving athlete.

Williams entered her 2015 tennis season as the number one ranked player and the defending champion at seven tournaments. She held her number one ranking for the entire year, making her the first person since Steffi Graf in 1990 to hold the top ranking for two consecutive years. She became the 8th woman in history to log 700 career victories, and it was the fifth time she ended as the number one player of the year. This year she also completed her second "Serena Slam," winning all four majors in a row, by winning the 2015 Wimbledon Championships, which was her 6th Wimbledon and 21st Grand Slam singles title overall. So yeah, she kind of fucking killed it.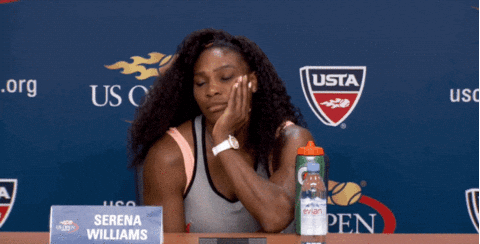 It was a grand slam year for Williams off the court as well. This past April, she became the first black female athlete to be pictured by herself on the cover of Vogue. She also presented her HSN Signature Statement collection for the second time at the New York Fashion Week. Chris Evert, "1976 Sportsperson of the Year," said of Williams, "She's been very graceful in the spotlight, and that to me, is she's grown into her role as the dominant player on the women's tour."

Williams also stepped up during a hard time for racial relations in our country. She returned to Indian Wells Tournament for the first time since 2001, when her family was bombarded with racist comments in the stands and she was booed off the court. This time, her return to the court, which was done in partnership with the Equal Justice Initiative (a non-profit organization that provides legal representation to those who may have been denied a fair trial), was met with applause. She's also been taking Civil Rights classes and is an outspoken supporter of the Black Lives Matter movement.

In a video posted by SI following this morning's announcement of the award, Jon Wertheim, Executive Editor of Sports Illustrated, said "I think it's the way she handles her celebrity, I think the way she handles herself in the sport, I think the way she handles herself candidly as an African America Woman. She has a set of challenges and a set of pressures that follow her around that are completely unique, certainly in tennis, I would even make the case in all of sports."

Also according Wertheim "Sportsperson of the year is intentionally vague and open to interpretation. On the court, she had this peerless season. She only lost three matches, she won three majors, but there's also this social component. I think to mix metaphors, she hit it out of the park in both senses." We couldn't agree more. Congratulations Serena Williams.
Photos via Sports Illustrated and Giphy
More from BUST
Amy Schumer On Her Topless, 'Stomach Hang' Photo In The 2016 Pirelli Calendar: 'Imma Be Me'
Watch This 9-Year-Old Girl Sword Fight Like A Boss
Watch Super Serena Williams Thwart A Cell Phone Thief
Olivia's first sentence was "No talk, just laugh" and since then, she's made it her business to find the humorous side of life and share her absurd observations with others. She's a writer, a lover of all things pop culture, and she can't fall asleep without having 30 Rock on in the background. If you like looking at pictures of food and random dogs, you should check out Olivia's Instagram.