A long line of antsy tweens waited outside Webster Hall in New York City, jittering with anticipation on Monday afternoon. But at the end of the line was not a One Direction concert or a glimpse of T-Swift. It was a group of six self-made YouTube stars—and they are all ladies. "Girls Night In," presented by Fullscreen Live, is a national tour featuring six of YouTube's most popular female vloggers. They are traveling to different cities around the nation and putting on a live show for their faithful viewers.
Eva Gutowski, Meredith Foster, Sierra Furtado, Mia Stammer, Alisha Marie and Andie Case are examples of how young women are building successful brands and businesses for themselves by creating their own content on YouTube. Literally My Life, a music video by Gutowski's MyLifeAsEva, has reached more than 14 million views since it went up five months ago, and Andie Case has more than 92 million views on both her original songs and covers.
YouTube is obviously an outlet for people to build celebrity—even the Biebs got his start on YouTube. According to the women of "Girls Night In," vlogging success coincides with creating passion-driven content.
"Everyone wants to start YouTube, but they don't know what types of videos they should be uploading," Eva said. "You have to find your passion, and just start uploading things that coincide with that, whether it's sports, music, video games, dancing…you can just put a camera on you, and upload it to YouTube."
The cool thing about this tour is that it is highlighting women on the Internet—a place typically filled with misogyny, trolls and angry commenters.
"Yes there are good and bad comments, but we try not to let really either affect us, you know, we want to be confident in ourselves and you know we shouldn't live for positive feedback and we shouldn't for negative either," Alisha Marie said.
Uploading any kind of video on the Internet takes a certain level of bravery, but dealing with the haters is something that these women have dealt with through strategy as well as through support in each other. They are basically the "Sisterhood of the Traveling Vloggers." Each one of these twenty-something vloggers clearly demonstrates a desire to pump out positive content for their viewers, many of which are teen girls. It was definitely great to hear Andie's response when asked if she was a feminist.
"I 100 percent would [consider myself to be a feminist]. I don't see any difference between a boy and a girl. I don't think anyone should be judged based on what kind of genitals they have," Case said. "You shouldn't be going by any kind of standard, no matter what society wants you do to, and you shouldn't have to 'sing this type of music' just 'cuz you're freakin' blonde, or you're a girl, or you don't have to do makeup tutorials just 'cuz you're a girl. If you want to do freaking baseball or basketball tutorials, and you're a girl, freakin do it, you know?"
Eva also was super enthusiastic about feminism, and said when she first started vlogging she thought that she had to do beauty tutorials because she is a woman.
"It took me a while to realize that gender didn't define who I had to be on YouTube, and I wanted to be one of the first girls that kind of pioneered into comedy and more humor-based content instead of beauty and fashion," Eva said.
Alisha Marie, Meredith Foster and Mia Stammer all do not identify as feminists.
"I like to stay neutral, but yes, I'm all for women-power. I think women should support each other and not tear each other down. I think we can be so empowering when we're working together," Meredith said.
Insert crying emoji here.
Mia echoed the "neutral" sentiment.
"I'm definitely neutral about the feminism because I think that there is a lot of negativity that can come out of it," Mia said.
And Alisha Marie said the same.
"Regardless of labels, I think just building each other up, and like, having each other's backs you know. Again, there's so much negativity out there and we can all be working together," Alisha Marie said.
With so many young female followers, it would be great to have these influencers be informed about what feminism is, rather than thinking it is something they can be "neutral" about. The sad part about it, is that I think if they were more well informed about what feminism means (i.e. wanting equal opportunity for all) they would have maybe been a little less neutral. They need their friend Andie to 'splain some things to 'em. I thought that the stigma of feminism carrying a negative connotation was a thing of the past, but I guess I've been seeing through my rose-colored glasses.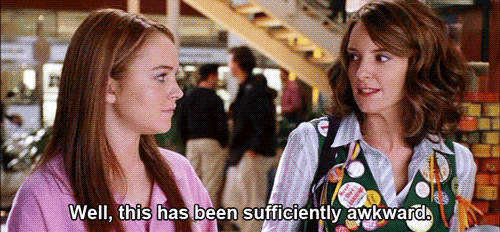 But since they are all about positivity and building other women up, I still say you go "Girls Night In" ladies! Hopefully, one day you will all proudly declare that you are feminists! In the mean time, keep on reppin' women on the web.
Photo via Instagram/Fullscreen Live.
GIF via Giphy.
More from BUST
Watch YouTubers Solve All Of Hollywood's Sexist Problems In One Hilarious Video
Margaret Cho Celebrates 'Fat Pussy' In Her New Music Video
Rose McGowan Gets Naked To Smash Hollywood Sexism In 'RM486' Music Video