My favorite new phenomenon is the book of essays by female comedians. I don't think it's an exaggeration to say my life would be empty without them. I've read Tina Fey's Bossypants more times than I can count, I practically put my life on hold when Amy Poehler's Yes Please came out, and Mindy Kaling's Is Everyone Hanging Out Without Me (And Other Concerns) has gotten me through several hard times. So last week, when it was announced that the newest it-girl comedian Amy Schumer got a multimillion-dollar book deal with Simon & Schuster, I kind of lost it.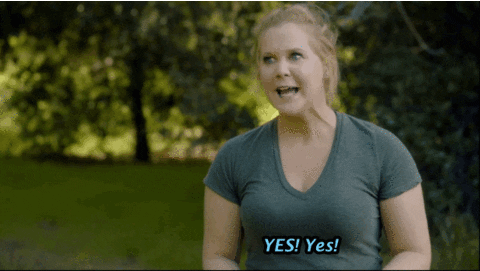 Interestingly, this wasn't exactly new news for the comedian. Back in 2013, HarperCollins gave Schumer a $1 million advance to work on a book of essays. Schumer began work on the memoir, but the next year, she canceled the contract and returned her advance because she was too busy to focus on the book. Understandable, considering what she has accomplished since then. Remember, this was back when Schumer was just a promising young standup, before she her hit TV show, her Emmys, and her feature film directed by Judd Apatow.
Last week, it was announced that Simon & Schuster paid more than $8 million for Schumer's book of essays. That's 8 times as much as her original deal. Looks like girlfriend played her hand right. A few years ago, this sort of book deal would have been unheard of. After the success of Bossypants, however, editors and publishers have been betting huge sums on comedians who have the potential to become "breakout literary stars." In Schumer's case, Simon & Schuster won the auction and plans to publish the book in late 2016. Fans of fierce, funny feminists everywhere will surely be counting down the days until the memoir's release.
Very excited to be working with @GalleryBooks !!!!!

— Amy Schumer (@amyschumer) September 24, 2015
Images via Comedy Central, giphy, Twitter
Read more on BUST.com:
Amy Schumer And Jennifer Lawrence Are Making A Movie Together And We Couldn't Be More Excited
Amy Schumer Talks Feminist Comedy & Pussy Magic In Our In-Depth Profile
Amy Schumer Takes On Gun Violence
Olivia's first sentence was "No talk, just laugh" and since then, she's made it her business to find the humorous side of life and share her absurd observations with others. She's a writer, a lover of all things pop culture, and she can't fall asleep without having 30 Rock on in the background. If you like looking at pictures of food and random dogs, you should check out Olivia's Instagram.