With the 2016 Presidential Campaign rapidly approaching, it is an awesome time to get to know the candidates. Recently Lena Dunham interviewed Democratic frontrunner Hillary Clinton for her email newsletter Lenny. (Lenny is an awesome email newsletter described as "a snark-free place for feminists to get information: on how to vote, eat, dress, fuck, and live better" started by Lena and Girls' producer, Jenni Konner.) The interview is pretty freaking amazing, and if you're already into Hillary it will make your heart happy to hear all about her days of collegiate activism at Wellesley, and her decision to go to law school. If you're not so sure about Hillary, this interview is an awesome look into some of her ideas on issues like police brutality and student debt.
To read the full interview, subscribe to Lenny. But in the meantime, here are the top five moments where we get to take a candid look into the mind of the potential first-woman president of the United States.
1. "I was a Goldwater girl, which meant I got to wear a cowboy hat, which I thought was really cool."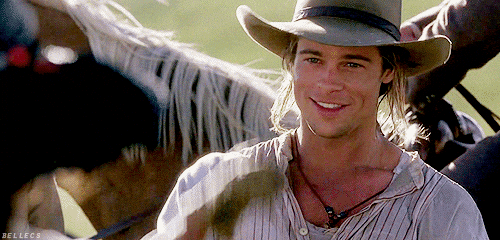 Growing up with a conservative Republican father, Hillary told Lena that she originally thought her views would align with his. It wasn't until she went to Wellesley that she realized she actually had views more in line with her Democratic mother, thus it was off with the cowboy hat and on with the feminism.
2. "But it was called 'sliming.' That's what I started off doing. And I've often said it was a great experience for being in politics. You get the connection."

Right after college like a true twenty-something, Hillary hopped in the car with some friends and headed toward Alaska. This landed her in a fishery gutting and canning salmon. It also prepared her to work with "slime." Burnnnn.
3. "I want to give everybody a chance to refinance their debt."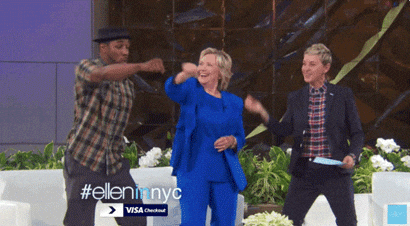 If you went to college, and you aren't some kind of magical heiress or genius who got a full scholarship, you probably have some student debt. Hillary said that her goal would be to assist students with refinancing, lowering interest rates and creating programs where people pay back their debt by percentages of their income, rather than flat rates. She also said that with more than $1.2 trillion in student debt nationwide, it is necessary to put a time frame on repaying loans. Holla for helping out post-grads tryna make it in the world!
4. "I don't feel like police officers are being as well trained as they need to, to try to prevent problems, to try to make it possible to talk with people to end some of the incidents that are going on."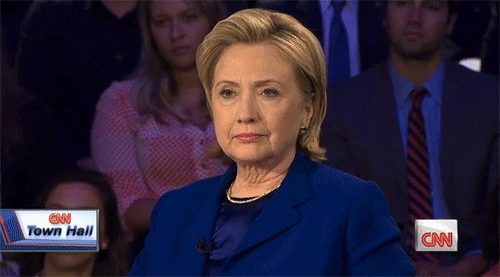 Lena didn't hold back on the hard questions, asking the presidential candidate what she would do to mend race relations in the United States. Hillary responded with suggestions to train police in a better way, and guide them to respond with less anxiety and nervousness to prevent overreactions that ultimately are fatal. She did say that it was ultimately up to the community: to build a mutual respect between the people and the police.
5. "Don't you think we ought to be working on this? I think we should do more shoulder stuff."
The interview ends with a hilarious exchange about a Donna Karan dress that Hillary wore as First Lady in 1993. The dress with some standout shoulder cut outs is in the Clinton Library, and Lena encouraged the presidential candidate to get it back out. In the end, they both agreed, as Donna Karan had advised her in the past, that it was time to do more shoulder stuff.
So do you think it is time to elect a Madame President? Is Hillary the woman for the job? No matter what your opinion, this interview brought together to smart ladies, and we are all about it.
Photos via Lenny Newsletter
GIFs via Giphy, Giphy, Giphy, Giphy
More from BUST.com:
Lena Dunham's Sibling Grace 'Walked Like A Boy' At NYFW
Hillary Clinton and Ellen Degeneres Left Heartbreaking Comments on a Humans of New York Photo
Carly Fiorina Is Unofficially Running For Prez & Here's What You Should Know About Her