Photo courtesy Kat Craddock
Did you know that many pizzerias are happy to sell you raw dough for home use? This clutch home-cooking shortcut has saved us loads of time and is endlessly versatile. Use it as a base for grilled pizzas, skillet naan, or these easy bakery-style calzones. They are delicious hot out of the oven or as the cornerstone of your next picnic lunch.

Once you have the method down, try swapping out your favorite fillings. Calzones are a great way to use up small amounts of leftover cooked protein and veggies and as long as your ingredients don't contain a lot of extra moisture, the baking time and temperature will be the same.

Serves: 4-6
Active: 30 minutes • Total: 90 minutes

Ingredients:
● 4 tablespoons olive oil, divided
● 3 cloves garlic, peeled and sliced
● 8 oz fresh spinach
● 1⁄2 teaspoon red pepper flakes (optional)
● 1⁄2 teaspoon kosher salt
● 2-4 tablespoons flour for dusting
● 1 pound prepared pizza dough, divided in 2
● 7 oz fresh mozzarella, torn into shreds
● 2 oz pepperoni, sliced
● 1⁄2 cup marinara sauce (optional)

Directions:

1. Set a large skillet over medium heat and add 2 tablespoons of olive oil. When the oil shimmers, add the sliced garlic and sautée until it is fragrant and just barely beginning to brown (about 2-3 minutes). Add the spinach, red pepper flakes, and salt and cover immediately to wilt. When the leaves have begun to lose some volume (about 2 minutes), uncover the skillet and use tongs to turn the greens a few times, coating with oil. Re-cover the skillet and cook for an additional 2-3 minutes; the spinach should be tender, wilted, and bright green. Transfer to a colander or mesh strainer and press gently with the back of a spoon to drain off some of the moisture. Set the greens aside to cool slightly.

2. Line a sheet pan with parchment or foil and preheat an oven to 400°F. Lightly dust a clean work surface and a rolling pin with flour and roll one half of the pizza dough out to a 7" x 6" rectangle with the longer side closest to you. Spread half of the drained, cooked spinach mixture evenly over the dough, leaving about a half an inch border along the top edge. Add an even layer of half of the torn mozzarella, followed by half of the sliced pepperoni and then tightly roll the calzone up away from you, gently pressing to seal the seam. Transfer the calzone to your baking sheet and repeat the process with the second half of the ingredients, leaving 4 inches between the two logs. Cover with a dry towel and set them in a warm place to rise for about 30 minutes. They need not double in size before baking, but will be slightly puffed.

3. Immediately before baking, brush the calzones with the remaining oil and transfer to the oven. Bake for 25-30 minutes, rotating the pan halfway through. The calzones will be golden brown, sizzly, and likely oozing some cheese. Resist the urge to tear into them right away and let cool for at least 15 minutes. Serve sliced, fresh out of the oven, with warm marinara on the side, or chilled the next day.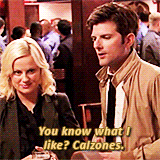 More from BUST
North Carolina's Smoke Signals Bakery Shares Their Famous Pizza Recipe
2 Perfect Sandwich Recipes From Anthony Bourdain
The Frida Kahlua, And More Cocktail Recipes To Help You Shake Up The Patriarchy
Kat Craddock is a Manhattan-based chef, baker, food stylist and writer with a decade of experience in the food and restaurant industries. After studying English and Studio Art at Wellesley College, she went to the Cordon Bleu culinary program in Chicago, interning under James Beard Award-winning Pastry Chef, Mindy Segal. Kat has worked in fine dining restaurant kitchens and bakeries in Chicago, Boston, and New York City, including Hot Chocolate, Sofra, Bouchon, and Per Se. She tested and proofread recipes for the cookbook Small Gatherings by Jessica Strand and has done recipe-testing, editing, writing and food-styling for Saveur, Tasting Table, and Munchies/Vice Media.  Currently, Kat bakes bread at Lafayette for Andrew Carmellini's NoHo Hospitality Group and works in events and recipe-testing for Saveur Magazine. Follow her on katcraddock.com and on and Twitter @katcontrol.