Miranda Hobbes from Sex and the City may have said it best with, "The only two choices for women: witch or sexy kitten." As Halloween queens, we are so much more than those two options. While I appreciate a rockin' rack and a bangin' booty as much as the next girl, and by no means think you should shelf the multi-functioning black bodysuit or pleather dominatrix boots (because, you just never know), I have also grown tired of these store-bought costumes. You know, the costumes that are just a noun with the word "sexy" thrown in front of it. Sexy job title, Sexy type of animal, Sexy inanimate object that has no business being sexy. I want to see real sexy! Powerful sexy. Creative sexy. Sexy because of their brains and their confidence. So, if this year you don't want to invest in the $75 corset or spend hours gluing seashells to a bra, here are some quick, cheap, and fem-tastic options to impress your friends. Bonus — most of these looks can be created with items you may already have in your closet.
1. Iris Apfel.
via Iris: A Film by Albert Maysles
A pair of round glasses and your most fabulous colorful coat is all you need to portray this fashion icon. Stack brackets and pom necklaces, or just go ahead and put on every piece of jewelry you own. Your neck can handle it, your friends "can't. even."
2. Cheryl Strayed
via Wild
Going the opposite direction, if you want a no-jewelry, no-frills or even a no-makeup costume, grab a notebook, backpack, and your most worn down boots and go as Cheryl Strayed. Girl, you don't even have to shower. You're WILD!
3. Leslie Knope
via Parks & Rec
Everyone's dream woman, Leslie Knope comes in so many forms — she's basically Barbie. Recreate her classic Pawnee Goddess vest with your own patches or dig up some newspaper and glue it to an old skirt to create her wedding look (tutorial here). I prefer Councilwoman Leslie Knope, with her suit, "Vote Knope" button, and waffle accessories.
4. Eleven
via Stranger Things
Who would have thought there would be two characters on this list that come with waffle accessories? I predict Eleven from Stranger Things will be the "it" ladies costume of 2016 (men's will be Ken Bone, I'm calling it now). A simple A-line dress, knee high athletic socks and bloody nose will have everyone asking you to The Snow Ball. Well, not everyone. There will always be a few losers out there who haven't seen the show and will likely mistake you for a school girl on cocaine (or "that girl from E.T." or "every character from The Goonies mixed together," which is still pretty cool. ) Or, be Barb. Because Barb is the shit.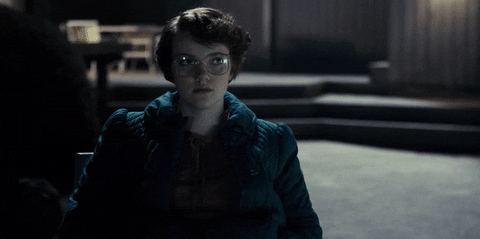 5. Olivia Pope
via Scandal
Put on the classiest dress or the most striking suit you own and pour yourself a glass (okay, bottle) of red wine. Call everyone you meet a gladiator. When you win "best costume" just pick up your cellphone, say "It's handled!" and ghost out of the party.
6. Judge
Ruth Bader Ginsburg, via Wikimedia Commons
Take grandma's doily off the sofa and throw on your graduation gown. Declare yourself the judge of the night and be prepared to settle any arguments or shut down any shenanigans. Show no mercy. Let no man man-splain.
7. Suffragettes
The original Spice Girls: Determined Spice. Angry Spice. Justice Spice. Inspirational Spice. Courage Spice. The best choice for a group costume, clearly. Make some "votes for women" sashes together and go out. Have a drink for me and for Hillary.
8. Princess
Kate Middleton and Prince William, via Wikimedia Commons
Most princess costumes have been so played out that they are now overrated. I don't mean to be so Elsa about it, but its time to Let It Go. You don't need a crown or a ballgown to be a princess. Freshen it up! If you're going to be a Disney princess, why not be kickass solider Mulan? It's all in the layering, belts and robes. And a big stick, if you can find one. I know, finding a big stick can be rather challenging. But I believe in you. Another princess option that is graceful and chic is Kate Middleton. I know you always wanted an excuse to get that hair fascinator! Match it to your dress to get the look. Tutorials for these hats are also found online if you like to DIY. How very Cinderella of you, princess.
9. Stevie Nicks
Stevie Nicks, via Wikimedia Commons
Chances are that you may already have some bohemian pieces in your wardrobe. Why not break the chain of boring costumes? Mix them together and do not forget the top hat. Emphasis on the top hat! Prepare yourself for a landslide of high fives. Stevie Nicks forever.
10. Walking Dead Women
via The Walking Dead
#squadgoals. I know most people don't have a katana in their sock drawer, so a full blown Michonne costume might be harder to pull together. But the best part about these powerful female characters is that they don't need capes to be heroes, just jeans and neutral colored tops. Adding vaseline to mascara makes a good fake dirt to cover your body with and red lipstick works well as fake blood. Anyone who doesn't get it can just go look at the flowers, okay? You don't need that negativity in your life.
11. The B in Apartment 23
via Don't Trust the B in Apartment 23
Obscure as the reference may be since Don't Trust the B in Apartment 23 only aired for a few seasons, those who know the show would be dazzled to see a "Chloe" at their party, stealing their alcohol. You can recycle last year's Holly Golightly costume, or reach for any classic LBD, add some red lips, your shades for throwing shade, and some animal print. However, you must make sure you have the signature straight across bangs. Otherwise, you may be mistaken as just any bitch and not this specific bitch. And I say bitch in the best way, because although a little immoral in the early episodes, Chloe was always confident, smart, funny, ambitious and she always stayed true to herself. No shame in being a bitch sometimes!

12. Baseball player
A League of Their Own
If you have any athletic uniform, you can go as one of our many talented female powerhouse athletes that are killing it right now in volleyball, gymnastics, soccer, tennis, golf, track and field, softball...I could go on and on...archery...swimming....okay, you get it. Baseball, however, is not only America's pastime, but has almost always been a "man's sport." Almost. The All-American Girls Professional Baseball League existed from 1943-1954. You've seen A League of Their Own, right? If you haven't, go ahead and skip Halloween and watch that. Don't buy the Legs Avenue sexy baseball girl uniform with matching thigh-highs. That's ridiculous. Those would be so hard to slide in. Instead, BE a baseball player who is sexy because of how groundbreaking and badass she is.
I could go all day naming more, which genuinely makes my heart soar. Some, with their bandanas and wrenches, are easier to create than some, with their pill box hats and Chanel suits. I absolutely acknowledge there are many strong iconic women and characters I have left off of this list. Some did not have a uniform or signature look that could be converted into a obvious "I know who you are" costume, like a swan dress or beehive hairstyle. But I see you ladies, I see you. Keep being the sexy, strong and iconic women you are.
More from BUST
9 Pampering Products For The Spookiest Season
David S. Pumpkins Is Your New Halloween Hero
How To Make A Pumpkin Bong For A Halloween High
Kelly Collette is a standup comedian and writer. She produces plays and comedy shows in the Midwest and loves to feature female leads. Find her on Twitter or Instagram @kellycollette.