Frozen bras don't sound particularly pleasant; Frozen inspired bras sound magical. And they are. The Close Sisters Bra from Japanese lingerie company Triumph, inspired by the close sisters Elsa and Anna from Disney's Frozen, changes colors when the wearer encounters a buddy also wearing the bra. Alone, you are just wearing your average dark bra, but once you see your best friend / sister who has a matching bra and give her a big hug, the electronic paper that the bras are constructed from transforms into a silvery snowflake pattern!
I wish it were more of a tittie-bump type of process, but this is super cute also. Unfortunately, there are no plans to market the bras, it seems like the designers just thought it was time to see what they could do, to test the limits and break through...
If you're feeling like push-ups are for push-overs, here are five other bras that take it to the 21st century.
They put a bird on it. And that bird is Twitter. In an effort to remind women to conduct a monthly breast self-exam last year, this bra automatically sent out a tweet whenever it was unhooked by its owner, Maria Bacodimou. Where is it now? Probably on Instagram.
2. Clap-Off Bra
Not so impressed by this bra that comes unlatched via electromagnets at the sound of applause (though I would be impressed if you made one). I mean, my boobs do deserve high praise, but I have never bought into the encore logic that says just because the crowd claps, the band has to play. Besides, imagine how inconvenient this bra would be at a concert. Now, if it clapped on, that'd be a shiny trick to save me a minute in the morning.
Not the most sexually liberating bra: Japanese lingerie company, Ravijour, created this one to be protection against ill-advised one night stands -- it won't open unless the heart-rate sensor collects data that denotes "true love." Yep, there's an app for that.

4. Stress Buster Bra
Microsoft researcher Mary Czerwinski finds ways that gadgets can help identify and control stress. One such gadget is a smart bra -- fitted with electrocardiogram sensors, a gyroscope and an accelerometer -- that detects the wearer's mood to prevent overeating. Data goes to the user's smartphone so that the real time data can be analyzed and used for decision making.
5. Light-Up Bra
Maybe you assumed this was a thing, but if so, then why have you not invited me yet to your light-up bra themed Veteran's Day party? Janet Cooke Hansen's Enlightened Designs crafts light infused undergarments that are: "part bra, part sculpture, part social disturbance."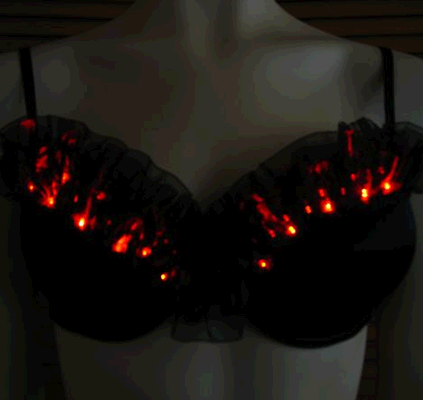 From frozen to flaming, all the bras you could ever wish for. Man, these bras are cool, but I think I'd rather...
No right, no wrong, no bras for me. I'm free.
Images and video via Triumph, TweetingBra, Rondofo, Ravijour, Microsoft Research, Enlightened Designs, Disney