Whoopi Goldberg and edibles maker Maya Elisabeth of Om Edibles—an all-female grow collective—have teamed up to help ladies who suffer from period pains. The joint venture, aptly named, Whoopi & Maya, will be producing marijuana-infused goodies to ease the menstrual pains. Although Whoopi is not the first celeb ganjapreneur to follow a cannabis career path now that weed is being legalized in several states—however, she is the first one to focus on relieving cramp pains.
Whoopi told Glamour, "I talked to a lot of men in the marijuana business about developing something for period relief, and they always came back with 'That's too niche a market.'"
But since half the population experience mild to "Oh God what did I do to deserve this?!" pain level of cramps once a month, Whoopi and Maya have decided to take matters into their own hands. Their line will include four cramp-reducing cannabis products: a balm, a tincture, sipping chocolate and a bath soak. The balm and bath soak are topical and will not get the user high, just relieve some of the agony making them ideal for using at work or for people new to marijuana use. "So many women lose time at work because of cramps," said Goldberg to glamour. "Our topical rub is not going to get you high, but it will take your pain level from a 50 down to at least a 20. And, you can pronounce everything that's in it."
Other ingredients in their pain relieving products are all natural, including herbs white willow and red raspberry, and a shrub called "cramp bark." Yes, I'm serious, it's known for it's pain relieving qualities when women have a bad case of the menzies.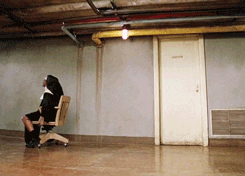 Although research on marijuana's effectiveness in relieving cramp pain is nonexistent—as is any in-depth research of menstrual pain—it makes sense that cannabis could calm a cranky uterus. Cramps are usually caused by contractions in the uterine muscles, so logically using cannabis products would help ease the pain by relaxing the user and her muscles.
Whoopi & Maya products will be available in California to people who have medical Marijuana licenses.
More from BUST
A Thank You Note To My Sex Ed Teacher 
BUST Review: THINX Underwear For Women With Periods
Your Boss Would Like To Talk About Your Period