At just 11 years old, I was already a Missy Elliott fan. I started taking tap and tumbling classes at 4 years old, and by the 6th grade, began taking hip-hop. When I was dancing to a radio edit of Nelly's "Shake Ya Tailfeather" in a sequin belly shirt and matching pants at a recital, I imagined myself as Alyson Stoner—the little white girl dancing alongside Missy Elliott in the video for "Work It." How cool was she?, I thought. Not "pretty" or "sexy"—just there, in a jumpsuit, dancing like a person full of life and contentment.
As the hip-hop star turns 45 today, I want us all to reflect on her well-versed lyrics and inspiring life, and look to what she can teach us about being proud of ourselves and respecting each other:
Feminism is about respecting women's choices.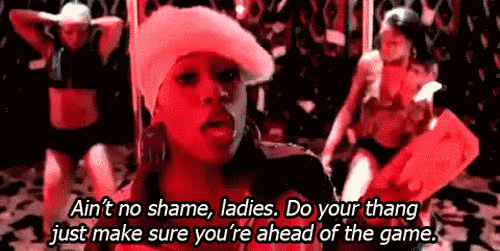 It took me a long time to catch the feminist bug because I thought, like many do, that feminists frowned upon women who wanted to stay home, cook, and raise kids. Eventually, I realized that feminism is about women having just as much freedom and respect as men, whether they choose to be mothers, doctors, teachers, or strippers. This is why I personally think Elliott's 2003 hit "Work It" is a slept-on feminist anthem:
"Girls, girls, get that cash
If it's 9 to 5 or shakin' your ass
Ain't no shame, ladies. Do your thang
Just make sure you ahead of the game"
Feminism is about encouraging self-love.
Early on, Elliott got a lot of backlash about her size because she didn't fit the concept of a beautiful star, but her incredible talent, and some words of encouragement from friend Mary J. Blige, helped her to keep her head up and let her star power shine.
Feminism is about believing and respecting victims of abuse.
In her episode of VH1's Behind the Music, Elliott talked about experiencing sexual abuse at the hand of her cousin when she was just 8 years old. "Being molested…it don't disappear," she said. In fact, sexual abuse can cause PTSD, as well as depression, anxiety, and suicidal thoughts and actions. It really doesn't disappear, and the despair victims display should never be taken lightly.
Feminism is about standing strong in the face of oppression.
Elliott, no doubt, has worked hard to get where she is today, as an icon to many who is also an "overweight" female in a male-dominated career and who overcame childhood abuse. Her skillful way of expressing herself in a genuine way is what has kept her in our ears and on our minds over the years, and why she managed to see a nearly 1000% increase in sales overnight after a very brief appearance during Katy Perry's headlining Super Bowl halftime show in 2015.
BONUS: Wondering what Alyson Stoner is up to today? Check out her tribute to Missy Elliott following her Super Bowl performance:
Top photo: Facebook/Missy Elliott
More from BUST
Missy Elliott Drops Her First Video in Seven Years — Drop Everything And Watch It Now
Michelle Obama, Missy Elliott And Janelle Monae Just Dropped A Single
12 Videos To Help You 'Get Ur Freak On' While Waiting For Missy Elliott's Next Album