Don't let this lingering warm weather fool you. The holiday season is just around the corner, which means the time to find the perfect gift for the ladies in your life is fast approaching! Here are some ideas to get your shopping list off to a stellar start.
Silver Bullet by K Squared Nail Paint, $5
The werewolves stand no chance against your witchy coven when you're all adorned with this shocking silver bullet nail polish! K Squared Nail Paint is a Brooklyn-based, hand-crafted nail polish company that brings you unique polish shades to stand out over boring drugstore repeated colors. Bedazzle your nails and your friends' with colors like Confetti Wish and Fruit Snax.
Lavender and Vanilla Moon Candle by Burke & Hare Co, $13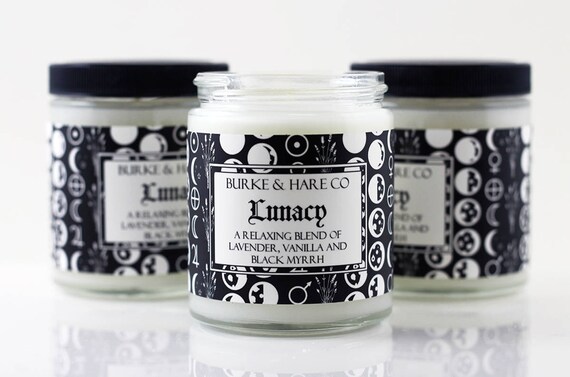 Relaxation is always necessary, especially during the holiday season, and this lavender, vanilla, and black myrrh candle delivers. The wax is handmade in small batches, providing a unique sense of tranquility for your BFF. Burke & Hare Co is a Rhode Island-based company with roots in Wisconsin that provides handmade wonders for wondrous people. Burke & Hare Co combines scents and their imagery capabilities with the power of light that candles are so well known for.
Release Face Mask by Heart Grown Wild, $15
Being a boss bitch is stressful work, so what better holiday gift than a mask to release all impurities and negativity? Using a combination of activated charcoal and white sage, this face mask pairs perfectly with a bath soak.  Heart Grown Wild creates organic plant-based products, and owners SantaLena Groves and Tom Groves work together to provide healthy alternatives to pharmaceuticals using nature and relaxation.
Unwind by BK Apothecary, $20
Breathe in, breathe out, and unwind. This is what these bath salts by BK Apothecary are here to provide, with Himalayan and the Dead Sea Salt working to relax, heal and even massage stressed muscles. The accompanying smells of lavender and rose will melt away all the stress and encourage rest. BK Apothecary is owned by a certified Holistic Practitioner whose passion for skincare comes from the direct physical results seen in her customers.
Cassia Kream by Drink More Good, $12.99
Take a taste of this new take on an old classic. With a mix of roasted kola nut, cinnamon, and vanilla, the Cassia Kream mixer can be added to 12oz of seltzer water to for a fresh take on the classic cola drink. Natural ingredients with a twist. Drink More Good offers a variety of bar syrups, loose leaf teas, and spices. The company also gives back by donating to causes such as generosity.org. Cheers to drinking for a good cause!
See You Next Tuesday Bangle by Rockaway Gypsea, $30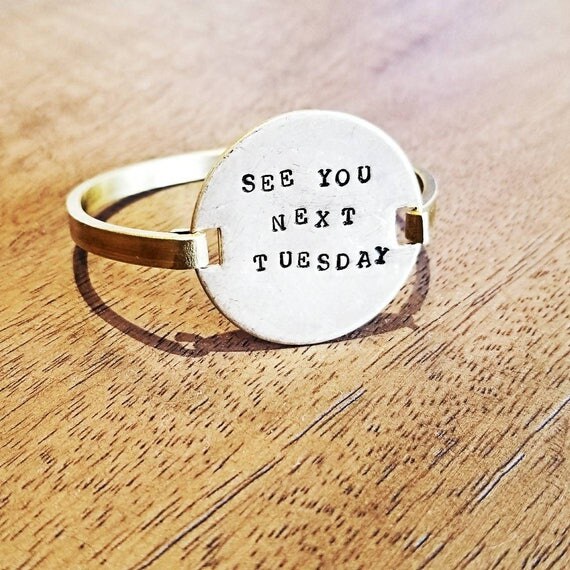 Let this sassy bangle do the talking for you because this hand-stamped slogan is one we can all relate to! Created by Rockaway Gypsea, this bracelet brings a little humor to your accessories.  Owner Randi is Rockaway Beach-based and is all about including her Brooklyn roots in her crafty jewelry, bringing a bit of grittiness to her vegan ink masterpieces. She is also an avid yoga practitioner and teacher.
Cowgirl Witch Tank by Bewitched Boneyard, $45
Goth girls need holiday lovin' too, and what's better than a cowboy witch tank? Designed by Zaharoula Morfogen, this unique tee is sure to turn heads by all who see while still being a comfortable shirt to lounge in. Bewitched Boneyard offers bull skull pendants, goat skull sculpture pendants, and more! Check out their Instagram ( @bewitchedboneyard) to see what else is in store for the modern witch.
Shoes Brown Leather Makeup Pouch by 144 Collection, $56
If your best pal is into fashion, makeup and skincare, then this makeup bag adorned with shoes is a perfect gift. 144 Collection created this adorable must-have, which is only one of the many beautiful handmade bags owner Lesia Griffin designed. Starting in her apartment number 144, her passion for expressing her creativity has grown, and she has joined forces with seamstress Mary Sue to create these awesome pieces.
The Humboldt Tee by CHAN + KRYS, $75
In a world of ever-evolving fashion and cringe-worthy trends changing at the blink of an eye, ethical, environmentally friendly fashion is a winning style. This hemp/cotton shirt with a subtle side-slit is a beautiful addition to any wardrobe and is sure to stand out through all seasons.  CHAN + KRYS focuses on offering fashion pieces that focus on texture and comfort, allowing women to feel fashionably comfortable in pieces they can be confident will last. Sustainably-designed clothing that promises eco-friendly, locally sourced, and zero waste products are a must-have for every woman.
Zodiac Marabou Robe by Wonderlust Lingeries, $150

Being a queen is exhausting, and every queen deserves to get her beauty sleep. The dramatic sleeves of this robe will accentuate any get-up underneath it! Wonderlust Lingerie believes there should be pride in the naughty side just as much as the nice, and definitely showcases this love for all things lingerie in N.Y.C. Owner Kristina is here to help you, whether you're looking for a feisty set, fun toys, accessories, or saucy sleepwear.
Accordion Ring by Alex Story Jewelry, $175

It's all in the details, and this accordion ring is a great accessory to gift this holiday season. These sterling silver steps grow to cover the finger, offering a musical detail to a queen's hand. Making jewelry that channels simplicity with an extra twist, Alex Story Jewelry delivers style with pieces like a castle ring and a bender ring.
Find these vendors and more at the BUST Holiday Craftacular, at Brooklyn Expo Center on December 9 & 10!
All images supplied.
More from BUST
What's Your October Sex Horoscope?
Get Your Moon Magic On With This Moonbox
Make This Witchy Moon Hanging In Just 6 Steps