While Ilana Glazer may let it all hang out in her comedy show, Broad City, she is very reserved about her personal life. It came as a surprise for us all when Pheobe Robinson, of the podcast Two Dope Queens, posted a congratulatory pic on Instagram, writing: "Belated congrats to these beautiful [babies] on getting hitched. Love you hard and deep. You're truly #RelationshipGoals and inspire me."
According to The Cut, Glazer married long-term boyfriend, David Rooklin, at a small city hall ceremony in February. She has largely kept her relationship out of the press other than a few footnotes here and there, such as a mention in a 2014 profile by The New Yorker, which called him "A trim clean-cut white man in his thirties, with glasses."
Instagram/Ilana Glazer
What we know: He's a scientist and a feminist, and he and Ilana have been together at least three years. Congratluations to the newlyweds! As Ilana would say, #Yasskween.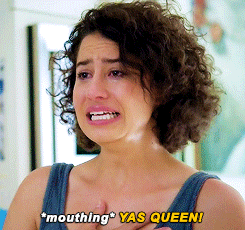 Top photo: Instagram/Pheobe Robinson
More from BUST

Ilana Glazer, Kate McKinnon, And Zoe Kravitz Star In 'Rough Night,' A Women-Led Black Comedy
Broad City Season Four Is Being Filmed As We Speak, And It's Going To Be ELEGANT AF
8 TV Boss Ladies Who Will Inspire You To Get The Job Done