Sometime's its hard to buy things for yourself, especially if you're used to saving up. But every once in a while it's good to spend your hard earned cash on yourself! Treating yourself to a new pair of earrings or statement necklace is healthy and there's absolutely nothing wrong with that.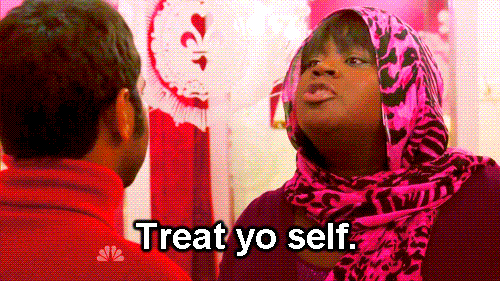 So why not come treat yourself to The BUST Craftacular PRIMPED edition, which will be hosted on April 1st, 2017 at Brooklyn EXPO Center, located at 72 Noble St., Brooklyn, NY from 11am to 6pm. Need a ride to the event? Get a $10 LYFT credit on your first ride, with code: BUSTCRAFTACULAR. Check out our full vendor roster here.
1.Emerald Aventurine Gemstone Bracelet/Ring from Denizen BKLY, $30
2.Gold Angel Aura Quartz Crown from Chablee, $44
3. Dear Patriarchy Necklace from Modern Girl Blitz, $20
4. Galaxy Earrings by Kate Koel, $30
5. Nebula Post Earrings by Rutigliano Design, $148
6. XXL Chalcedony Pendant from Almbijoux, $250
7. Necklace by My Custom Peace
All photos via My Custom Peace, Almbijoux, Rutigliano Design, Kate Koel, Modern Girl Blitz, Chablee, Denizen BKLYN
More from BUST
7 Of The Best NSFW Items To Properly Convey Your Current Frustrations
7 Hippie-Inspired Gifts For The Boho Babe In Your Life
6 Pieces Of Feminist Swag To Keep You Motivated
Support Feminist Media!
During these troubling political times, independent feminist media is more vital than ever. If our bold, uncensored reporting on women's issues is important to you,
please consider making a donation
of $5, $25, $50, or whatever you can afford, to protect and sustain BUST.com. Thanks so much—we can't spell BUST without U.