Tim Curry in the Rocky Horror Picture Show
As FOX prepares to release their updated made-for-tv version of The Rocky Horror Picture Show, I can't help but remember by own pilgrimages to the midnight move as a teenager in the early '90s. Armed with some of the necessary audience participation props — water pistols, rice, and toast — my group of friends entered the time warp (hey, my folks let me break curfew for the movie!) while letting loose singing, shouting and throwing things for 100 fabulous minutes. Recently, I rewatched the cult favorite for the first time this century and couldn't believe how well it held up. Not only was it still entertaining, but I realized the film unintentionally doled out some  pretty great life advice as well.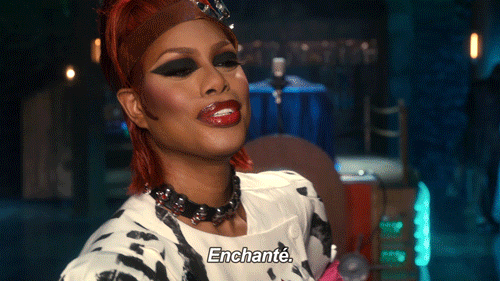 Laverne Cox in the new Rocky Horror
1. Don't be so uptight.
Straight-laced Brad and Janet were proper, polite and virginal when a brightness from the Frankenstein place caught their attention.  And once they got in, boy did they see the light.  Getting stripped down, shenanigans with the whole gang and liaisons with Frank-N-Furter opened their eyes to a hedonistic world,  bringing the couple closer.  The best thing to happen to Brad and Janet was that castle.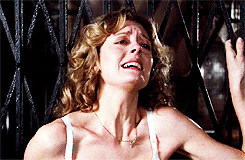 2. "I love you" sometimes means "Let's go screw."
Movie-goers got it right when they overdubbed Brad's "Dammit, Janet, I love  you," with the more vulgar statement, clearly displaying the double talk of many a young man. Be wary of those romantic words, young ladies; listen for the parallel talk.  
3. Your dream guy might not be what you think.  
Frank created Rocky to be the perfect man, but he actually turned out sort of lost and dumb. But Frank, well that's a different story.  Tim Curry played the role with such raw sexuality, he could make a girl forget he wore pearls. Frank-N-Furter could sing, dance and cook; he loved old movies and was a science geek — a doctor actually. His feminine side, was, uhm, certainly strong, but  in his own words, "I'm not much of a man by the light of day, but at night I'm one hell of a luv-vaaah." I think both Janet and Brad would agree.  Alas, we find out he's an alien giving further evidence that the perfect man doesn't exist on this planet.  Also, he's a murderer.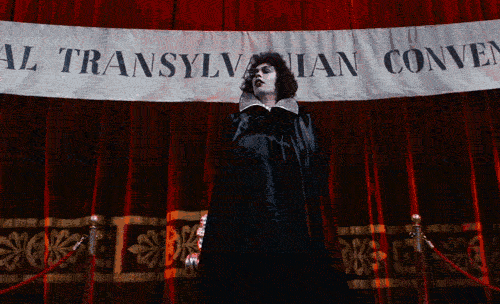 4. Don't come between family
Riff Raff and Magenta were as close as brother and sister can get. Well, actually too close — but they had each other's backs. Frank paid the price for his false promises and indentured servitude. When a family bonds together, anything can happen — even turning a castle into a spaceship to return them to Transsexual Transylvania.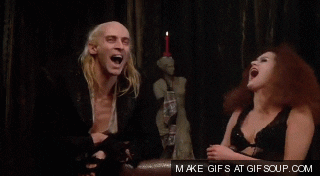 5. Know the source of your food.
You might just be eating Meat Loaf.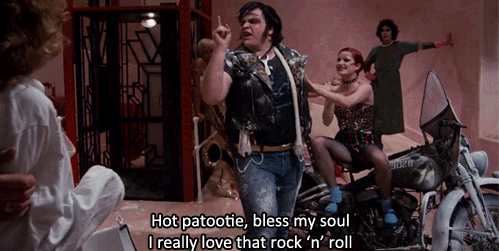 6. Don't dream it, be it.
What better motto to live by than this? Tired of your direction in life? Put your hair in a weird ponytail, grab your loved one and zap anyone who gets in your way. Feel like an outcast? Find your local midnight Rocky Horror showing and join the sorority of misfits at the floor show. Swim in a pool in clown makeup and a corset. Rose tint your world, hold your head up high and be your fantasy self.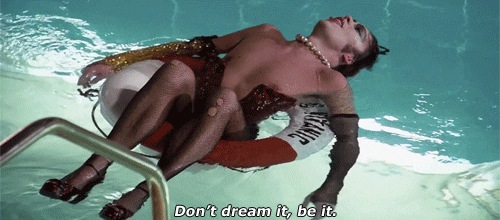 Tara Cox is a Manhattan-based magazine editor and author of Airstream: The Silver RV. A roadside Americana enthusiast, she is also passionate about diners and finding the best black and white cookie in NYC. You can follow her on Twitter @ThisIsTaraCox and on Facebook.
More from BUST
14 Reasons We're Excited For The New 'Rocky Horror' Remake Starring Laverne Cox
On The Bystander Effect And The Rocky Horror Picture Show
Laverne Cox Joins 'Rocky Horror,' Will Play Frank-N-Furter