Are you watching Jane the Virgin? If you're not, you should, because it's one of the best shows on TV right now. It's got the grandmother/mother/daughter relationship of Gilmore Girls, the heartwarming and hilarious humor of Parks & Rec, and the impossible-to-keep-track-of-but-highly-entertaining plot of a show like Gossip Girl — or a telenovela, a genre it both embraces and parodies. Plus, lead actress Gina Rodriguez is AMAZING and makes me cry all the time.
And another reason to watch Jane the Virgin — the way it deals with pregnancy, abortion, and reproductive rights.
(Spoilers for Monday's episode below.)
If you haven't watched Jane the Virgin, you'd probably think that a show about a virgin who gets pregnant and decides to have the baby is pretty anti-choice — especially if you know that the show's main character is a devout Catholic or have seen one of the often-repeated scenes where baby Jane is told to protect her virginity like a flower. But you would be wrong.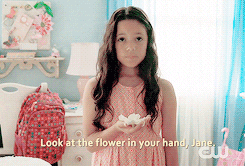 There have been hints of Jane the Virgin's pro-choice viewpoint before: Although Jane decides to have the baby after she is accidentally artificially inseminated, she at least discusses her options, and having a TV show say the word ABORTION on TV is actually pretty rare. Earlier seasons also showed that Jane's mother, Xiomara, considered abortion — at the advice of her very religious, but very protective mother Alba — when she became pregnant with Jane as a teenager.
Last season, we saw Xiomara and Jane's father Rogelio reunite and fall in love — only to break up because Xiomara doesn't want to have more kids and Rogelio does. The Season 2 finale ended with Xiomara discovering she was pregnant after a fling with Rogelio's nemesis and rival telenovela star. In the Season 3 premiere, we see Xiomara tell Rogelio about her pregnancy — and the fact that she doesn't intend to continue it.
 
Xiomara's abortion actually happens offscreen, between episodes one and two. And the drama around Xiomara's abortion in episode two doesn't revolve around her feelings about her decision — she's absolutely sure of her choice — but around the conflict with her mother, who thinks she should have continued the pregnancy. After a fight, they reconcile at the end of the episode when Alba says that although she doesn't agree with Xiomara's choice, she knows that it was her choice, and they mutually agree to mend their relationship (and tear down their newly repaired house's ugly wallpaper). It's worth pointing out, too, that Alba is the only character who disagrees with Xiomara's choice — Jane, Rogelio, and Jane's new husband Michael all know about her decision and support her.
Showrunner Jennie Snyder-Urman told Buzzfeed, "Personally, I wanted to see a different type of abortion story on TV. One that didn't show the woman tortured and guilt-ridden. While that certainly does happen, it is not the only response, nor is it the only story that should be told."
She added, "We've had a few 'surprising' pregnancies on our show. But because we'd brought up abortion a few times as an option, and then dismissed it, I knew that for our next accidental pregnancy … we'd definitely dramatize a different choice. I felt like we owed that representation for balance. And also for realism!"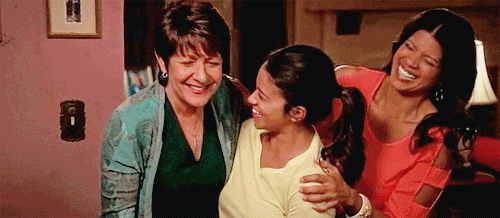 the Villanueva women
Planned Parenthood praised Jane the Virgin for its portrayal of abortion — and also pointed out that it's the first time a Latina character has had an abortion on primetime TV. The Cut points to a study that shows that that on TV, women who get abortions are usually young, white, and wealthy; while in reality, of course, women of all ages, races, and socioeconomic status get abortions — including women who, like Xiomara, have one or more children.
"Pop culture can help challenge stigmas and change the conversation about abortion," Caren Spruch, director of arts and entertainment engagement at Planned Parenthood, said in a statement. "We're thrilled that the filmmakers behind Jane the Virgin recognize this."
More from BUST
We Need To Talk About 'The Other Virginity'
'OITNB' And 'Jane The Virgin' Star Diane Guerrero Advocates For Immigrant Rights In Her New Memoir: BUST Interview
Am I Latina Enough? And Other Concerns I Have