I would consider myself a very withdrawn person. I have a lifetime of suppressing emotion in order to get through situations. I will tell you how I feel, but only after the largest wave of emotion has already passed. In other words, I am more likely to tell you how I felt than how I feel.
When I was in the theater, watching Hidden Figures, I felt so vulnerable. Even though the room was dark, I still had this urge to hide my emotions. I was afraid of crying in public.
I wasn't just good at math as a kid; I loved it. Solving quadratics felt like solving puzzles. I had no greater satisfaction than when I figured out the logic behind problems. Then my goal became practicing to solve them faster and faster.
When the little girl (younger Katherine Johnson) went to the board to solve the problem; I had flashbacks on my own time at the board. Excited. Eager for the challenge. A little surprised it wasn't as obvious to everyone else.
Yeah, I was that kid.
That kid who memorized the periodic table of elements.
That kid who held her quiz an extra five minutes because she didn't want to make it so apparent that she had finished before everyone else.
That kid who took apart radios so she could see the magnetic field pattern of the stereo earphone using bits of iron she shaved off a pot (sorry Mom).
That kid who read encyclopedias for fun.
But I was also that kid at possibly the worst intersection of privilege and access in America.
Hidden Figures made me think about my identities as a Black American and as a woman. I had just as many messages from my youth telling me that my interest in math and science was abnormal because I was a girl as it was because I was black.
I wanted to do the work but I felt suppressed in my ability to express my ardent interest.
I remember telling people that I wanted to study physics and having the general response be, "Oh wow! You're good in math?" or "well keep it up, usually women aren't good in math." They weren't meant to be insults but they weren't compliments either — nor were they affirmations of my choice. I would receive messages laced in respectability politics. "We need more black people to stay in school and do math/science." When I finally did reach college, I was so full of this anxiety around performing well.
In high school, I still remember a male classmate running down the hall exclaiming, "I can't believe I got beaten by a girl" when he realized that I had scored 20 points higher than all of my classmates on a modern physics exam.
I remember the response I received after telling my physics teacher that I wanted to study physics in college. "Are you sure? That's a tough major." I remember the encouragements he would throw at another male classmate who, if he would but apply himself, could be great in physics.
So when I saw the little girl in school, I nearly lost my composure. I was flashing back.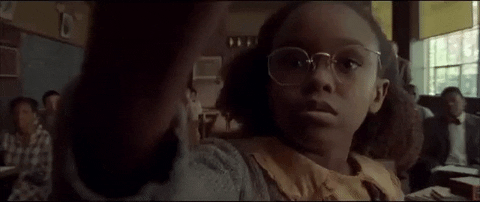 I think about the math and science that I loved, that gave me this unbridled sense of wonder and accomplishment. Then I think of how bogged down I began to feel, how much harder it felt to do the work. How I kept fighting for a place in physics but never being told, "Yes, you belong here."
Growing up, I saw and loved movies about that kid: typically, white boys who showed genius and some amount of social awkwardness. I related to them through experience, through love of the same subject.
When I saw the little black girl on screen, I finally got an opportunity to relate. It made me realize that what I thought was "relating" was just a half-truth. Like when your parents only allow you to eat fruit and then you discover sugar during a sleepover at a friend's house. (WTF, parents?!? What else are you hiding?)
If one more well-meaning person, one more movie or TV sitcom, one more random person on the street, one more professor tries to tell me that I am rare, I will explode.
I am not rare — I'm just not a man. Or white. Or Asian. WE have some very disturbing ideas around intelligence and opportunity. We are really doing a disservice to ourselves and to our country by not recognizing and nurturing talent. How much sooner could we have made it to the moon (literally) had we given all capable individuals a seat at the table?
Because that kid could be any kid.
solving math problems like a BOSS
This post originally appeared on Medium and is reprinted here with permission.
All photos except last from Hidden Figures; last photo courtesy Liz Wayne
More from BUST
Hidden Figures, Roxane Gay And More: BUST's 10 Best Bets For Winter 2016
14 Books By Women To Make Your February A Little Brighter
11 Political Moments From The SAG Awards You Should Pay Attention To