K-Stew Helps Female Filmmakers Develop New Twilight-Inspired Shorts
Vampires don't die easily.
Especially vamps that grossed $3.3 billion worldwide.
The Twilight saga continues now that Lionsgate is sponsoring "The Storytellers -- New Voices of the Twilight Saga," a Facebook-based competition to find and fund five Twi-verse short films written and directed by women.
Fans are currently voting to decide which characters the films will ultimately develop. The stories must be canonical and from the time before Edward met Bella (if you can even imagine), but other than those caveats, the style, setting and action are all up in the air.
Female writers can submit screenplays and five female directors will be chosen to helm the most promising productions. All of the projects will be under the mentorship of a panel of women who are currently slaying the film industry. Those who've signed on to give their advice include author Stephenie Meyer, actresses Kristen Stewart, Kate Winslet, Octavia Spencer and Julie Bowen, directors Jennifer Lee (Frozen) and Catherine Hardwicke (Twilight), and Women In Film President, Cathy Schulman.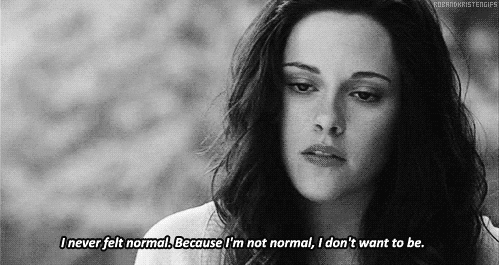 This is an exciting development, not only as an opportunity for young writers and directors to showcase their voices and art, but because the slut-shaming, heteronormative world of Twilight could definitely use a feminist reboot. It's always a good time for Hollywood to get bitten by fierce young feminists, so enter here and let your fan mania fly free! Hey it worked out for E.L. James...
Images and video via Twilight, Lionsgate, giphy
Barbie Gets the High Fashion Treatment in Pint-Sized Couture
Were you a Barbie-loving 90's kid? Do you love all things fashion? Enter the world of Tiny Frock Shop, where high fashion runs on a much smaller scale. And I mean tiny. The online shop is exclusively for Barbie and all her style and accessory needs. Pamela Thompson, experienced designer, mother and Barbie fan, is the woman behind all this mini couture.
Thompson lived in New York City for eighteen years, and worked as a designer for major names like Betsey Johnson, Heatherette and Anna Sui. After giving birth to her daughter, Lily, she left the city and moved back home to Chicago. Since the design opportunities in the Windy City were not as plentiful as New York, the choice came at a seemingly heavy price for her burgeoning career in fashion.
Thompson with her daughter, Lily.
But Thompson was determined to not let motherhood or distance from the Big Apple dismantle her dreams, and instead merged her passion for design, fashion and creativity with her new maternal life.
"I was trying to figure out a way to use what I've learned in the industry over all those years and boil it down to a smaller scale, a microcosm of the fashion world," Thompson told BUST in a recent interview, "So I ended up deciding that maybe dolls were the way to go."
Five years later, Thompson runs a web-store of beautiful resale clothing for Barbie you can't find anywhere else online. Hand-picked from archives and restored by Thompson herself, the shop includes numerous Vogue-worth outfits and accessories that make a serious case for pint-sized high fashion. "I see the clothes as little pieces of history that I want to revive and nurture back to health," she said. "Because you know there's a story with each one. To know that they were loved by and had been played with by someone in the past is so cool."
The shop offers everything from collared dresses and turtlenecks, to mesh tops and lace leggings. The accessories are as equally to-die-for (check out the Video Killed the Radio Star Glasses).
With her 5 year old daughter as "CEO" of the company, and the "staff" of the store made up of dolls, Thompson's effort to make the store fun and friendly for kids is clear.
"I've always been a mentor while I've been a fashion designer," she said. "And so I was thinking of ways to sort of help kids see what the fashion industry is like, but from their level."
Thompson provides visitors with profiles for each "model," complete with doll interviews and personality descriptions. She also has "behind-the-scenes" content, and stages mini photo shoots and fashion shows. "It just sort of lets me do all the parts of the industry that I loved being involved in," she said, "but without actually having to be in New York. And also I get to play at the same time!"
As the shop grows more successful, Thompson soon wants to try her hand at designing new pieces for Barbie, and will soon be offering downloadable patterns for aspiring fashionistas to DIY for their dolls. There is also hope to work with some major designers and former collaborators to design a collection for Tiny Frock Shop.
"My dream would be to have Betsey (Johnson) or Anna (Sui) or someone like that come in and do guest designs," she exclaimed with a laugh. "But we haven't gotten to that point yet!"
Visit the site here, and start making your Barbies the best dressed dolls on the block!
Photos via Tiny Frock Shop
Female Orgasms Are Brought Out of the Shadows and Into the Spotlight in an Exciting New Book
Heads up BUSTies! A new book is out and it's called Orgasm. Intrigued yet? The result of a collaboration between award-winning photographer Linda Troeller and author/ ethnographer Marion Schneider, Orgasm (Daylight Books) aims to discuss and accurately portray women's sexuality, specifically as it relates to the female orgasm, through personal stories and visual images.
The book, after ten years of hard work and research, is a follow-up to the 1998 volume, The Erotic Lives of Women, which went on to be called, "one of the gutsiest books of the decade," by The New York Times Review of Books.
In the work, twenty-five women of different ages, nationalities, as well as social and cultural backgrounds participate by engaging in conversations regarding their experiences with orgasms, both independently and with partners. During the investigation, Schneider asks participants five different questions, which were then audiotaped, as Troeller captures their immediate reactions through photographs.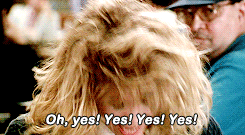 Participant questions included:
"What does the word orgasm mean to you?"
"Can you remember your first orgasm and show the feelings to the camera?"
"Can you remember your strongest orgasm and show the feelings to the camera?"
"Do you have fantasies when you create or experience an orgasm?"
"What is the future of orgasm in society / in the world?"
Did you all just answer those questions in your head? Because I did. Go ahead… I'll wait.... just tell me when you're close...
This in depth investigation leads to one main overarching question: what does female sexuality look like (literally and figuratively) in the 21st century?
A few bonus topics include: Are we more comfortable with our sexuality? Are we willing to be more assertive with what we want and like? Is it all just personal preference or still too personal to discuss?
The book Orgasm: Photographs and Interviews by Linda Troeller and Marion Schneider is out tomorrow, November 5th, and will include a seven city book tour in Germany. Hurry and pick up your copy!
Images via Daylight Books & Giphy
Kristina Wong and Issa Rae Interviewed by the New York Times for Making Race Jokes
(That's race jokes, not racist.)
Kristina Wong and Issa Rae are two performers profiled in the new New York Times video series, Off Color. The four-part series delves into the personal and political goals and motivations of artists of color who use humor to directly and acutely address issues of race in the United States. It is enthralling to hear these provocative artists overtly explain the social injustices that inspire them to be not just artists who can make people laugh, but activists who can make people think.
Kristina Wong is a performance artist and writer whose one-woman show, "Wong Flew Over the Cuckoo's Nest," sought to raise awareness about depression and mental illness among Asian Americans. Her boisterous shows push back against oppressive cultural norms, like the fetishization of Asian women. "The sort-of fight to address or reverse or change oppression is a long fight, and if I fight it constantly with anger, that's the man getting me twice: once when they've made fun of me, and the second time by making me angry."
Issa Rae regularly unpacks stereotypes of black Americans in episodes of her show Misadventures of an Awkward Black Girl. She wants to see more diverse representations of black experiences in films and television, not only slave narratives and Tyler Perry characters: "Everyone has felt awkward or uncomfortable or socially misfit at some point in their lives and for some reason in mainstream television black people haven't been allowed that..."
The series includes interviews with two male artists of color who are equally busty. Hari Kondabolu talks about those awkward, painful, most powerful moments when no one is laughing. Lalo Alcaraz has a nationally syndicated comic strip that deconstructs the criminalization of immigrants. Don't waste time on the internet: watch all four interviews!
Images and video via New York Times.
A Comix and Arts Festival Run and Organized by Women
Say what? A comic book festival run and organized by ladies!? It really exists! The Short Run Comix and Arts Festival on Saturday, November 15 at Washington Hall, is probably the coolest, most fun, and inexpensive thing to do with your weekend in Seattle. The main event is free and open to the public and features a ton of amazing indie comix, small press and emerging artists, cartoonists, publishers, zinesters, authors, animators and more! This DIY-centric festival has plenty that is pleasing to the eye and the brain.
The comic book industry is heavily dominated by men, and it's refreshing that there's a festival (which has existed since 2011!) that is created, run, and organized by talented and creative ladies, and also allows other creators to gain exposure and become more integrated into the art and comic book world. The organizers and board of directors are deeply connected in non-profit, event planning, fundraising, comics and art, and teaching as to provide the best event for those traveling to the festival this November.
This year the festival is celebrating John Porcellino, mini-comic book legend, and his documentary, along with other artists that are traveling from all over the world to take part in events, workshops, readings, screenings, panels, and murals all around Seattle. Porcellino is particularly interesting because he hasn't given up his DIY roots. He is celebrating the 25th anniversary of his self-published comic King-Cat Comics and his upcoming first full-length graphic novel, The Hospital Suite, published by Drawn & Quarterly.
The line-up is huge this year! The artists are continually amazing and inspiring, and the amount of things you can do leading up to, and after the event are endless. If you are in the area, I strongly suggest you check it out, meet some awesome people, and get inspired! Events start on Monday November 10th at the Seattle Public Library, and last until Thursday November 20th at the Richard Hugo House.

Short Run organizers Janice Headly, Eroyn Franklyn, and Kelly Froh
Photos by Alex Stonehill & poster created by John Porcellino
Search
On Newsstands Now: Oct/Nov 2014
Trending on BUST