There's a lot to love about The Hunger Games' Katniss Everdeen: her bravery, her determination to protect her little sister, her ingenuity…as Johanna Mason calls it, her "tacky romantic drama and defender-of-the-helpless act"….and her badass archery skills.
Katniss joins a long line of female archers in film, from Brave's Merida to King Arthur's Guinevere to Mulan. Here are 10 heroines who know their way around a bow and arrow.
Katniss Everdeen, The Hunger Games (2012-2015)
As The Girl on Fire, Katniss Everdeen (played by Jennifer Lawrence) sparks a rebellion against a totalitarian regime responsible for the deaths of countless children. And she does it with the help of her trusty bow and arrow. If you've been living under a rock and haven't caught the flick, Google "Katniss' apple shot." You're welcome.
Merida, Brave (2012)
This defiant Pixar princess is determined to live a life as free as her flowing curls. So, when a dreadful curse is set upon her family, Merida sets out to save the day.
Serafina Pekkala, The Golden Compass (2007)
What's more badass than a witch queen? A witch queen who soars through the air, bow and arrow in hand. Enter Serafina Pekkala (played by Eva Green), who plays a pivotal part in rescuing children from Marisa Coulter's forces of evil. Some distant relation to Ann Coulter by any chance, Marisa?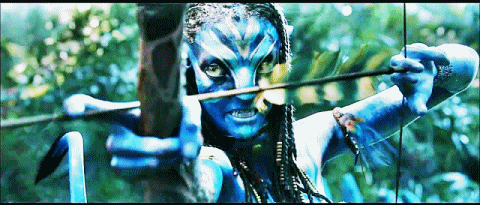 Neytiri te Tskaha Mo'at'ite, Avatar (2009)
After saving her soon-to-be-love Jake Scully from a pack of viperwolves, Neytiri (played by Zoe Saldana) teaches him how to use a bow and arrow. Though formidable, she doesn't kill unless absolutely necessary. And that's pretty darn admirable to us.
Guinevere, King Arthur (2004)
The daughter of Merlin, Guinevere (played by Keira Knightley) is all the more enchanting as she wields her bow and arrow. Sadly, marketers in the United States digitally "enhanced" her breasts in movie posters, a practice that Knightley spoke out against –and rightly so.
Park Nam-joo, The Host (2006)
In this Korean monster thriller, Olympic archer Park Nam-joo (played by Bae Doona) shoots arrows at a hungry mutant beast in an attempt to rescue her 13-year-old niece. Oh, and the film contains political/social/military commentary to boot.
Susan Pevensie, The Chronicles of Narnia (2005-2010)
The quick-witted Susan Pevensie (played by Anna Popplewell) is also a talented archer, employing her bow and arrow in battle. Not bad for a teen!
Fa Mulan, Mulan (1998)
Mulan (voiced by Ming-Na) manages to squash the traditional gender roles imposed upon her, and she does so with the help of  the few weapons at her disposal. But first, she undergoes some tough training, learning archery and the fine art of retrieving an arrow from a high post while donning weighty medallions.
Hanna, Hanna (2011)
Hanna (played by Saoirse Ronan) is a 16-year-old assassin with bright blue eyes, soft blonde locks, and a thin frame. Don't believe this pint-sized chick can take someone down with just an arrow? It happens… really.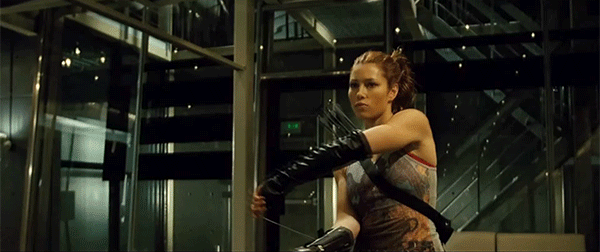 Abigail Whistler, Blade: Trinity (2004)
Okay, so this film won't go down in movie history as a classic. But I could watch Abigail Whistler (played by Jessica Biel) kick vampire ass for a long, long time. Hear that, Hollywood?
Images via The Hunger Games, The Golden Compass, The Host, Hanna
An earlier version of this post by Diana Denza appeared on BUST.com in 2012.
More from BUST
Jena Malone Talks 'The Hunger Games,' 'The Rusted' And Her Screenwriting Dreams: BUST Interview
Horror Films And Feminism: Women Who Don't Run From Danger But Step Up To It
The All-Female Ocean's Eleven Can't Happen Soon Enough